Active AIR 32mm Artificial Grass
£59.49 – £118.99 Per Metre
An authentic looking rich green turf with a combination of 4 greens and multi-shaped yarn, ideal for the busy family garden.
The innovative AIR® range uses technology capable of reducing up to 70% of harmful nitrogen oxides by oxidising organic matter and malodours at molecular level, when compared to other artificial grass surfaces.
1m2 of AIR® treated grass is comparable to the air purifying effects of one mature tree, helping to cultivate a sustainable, cleaner environment in your own back yard.
An added benefit of the technology means the products will break down pet odours, mould, moss and algae without any ongoing treatment
The benefits 
Anti-bacterial
Durable
Breaks down odours
Clean & safe
Child & pet friendly
Low maintenance

 
Active Air 32mm Technical Data
Yarn Type: 65% /35% recycled PE/PP straight / curled. W-shape + C Rib
Backing: Polypropylene woven, ca. 170 gr / m² Tuft cloth & a Pre coat, ca. 800 gr / m² backing
Pile Height: 32mm +/- 10%
Weight: 2,503 gr/m2 +/- 10%
Stitches Per m2: 20.475 +/- 10%
Colour: Mint – 4 colours
| | |
| --- | --- |
| Unit of Sale | Per Metre |
| Thickness | 32mm |
| Length | 1m |
| Width | 2m, 4m |
| Size | 12mm x 1m x 2m, 12mm x 1m x 4m |
| Material | Plastic |
| Colour | Green |
| Type | Artificial Grass |
| Manufacturer | Artificial Grass |
Videos
Introducing AIR - Eco Friendly Artificial Grass:
Fitting Guide:
Jointing: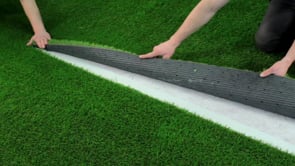 Cut Into Hard Edges: