10 easy and effective landscaping ideas for your garden
Garden landscaping doesn't have to involve moving huge amounts of earth. Here are some easy yet effective landscaping ideas that you can tackle yourself.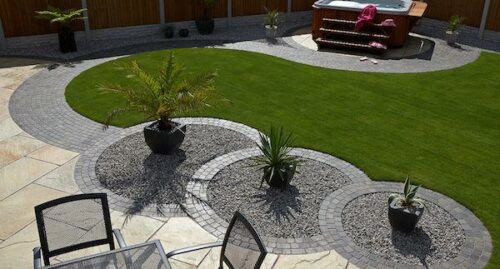 Garden landscaping doesn't have to involve moving huge amounts of earth, as there are some relatively easy yet effective landscaping ideas that you can tackle yourself.
1. Get in shape
Landscaping a garden can be as simple as giving it some shape, for example by neatly edging your flowerbeds or around the edge of your lawn, and that can take just a few minutes of attention with a sharp-edged shovel.
2. Fresh and fertile
If you have flowerbeds, make sure the soil is fertile. Mixing some good-quality fertiliser into your flowerbeds can help produce brighter blooms and healthier foliage on annuals, perennials and evergreen shrubs alike.
3. Bring the light
Letting light into your garden is a good way to make the space feel more pleasant and welcoming, so consider cutting back any large shrubs that block out the path of the sun throughout the day and/or adding some solar powered or electric lights for evening time.
4. Where's the water?
Water features can be as simple as a static reflecting pool or bird bath, or as complicated as a pond with fountains and waterfalls.
You can get a great range of different plug-and-play water features or, if you're more ambitious, build one of your own and power it with a small outdoor pump.
5. Paths and patios
Hard surfaces are less 'natural' than grass but they help to give the garden more structure and usable spaces. Patio areas provide you with a place to sit out and enjoy the sun or a warm summer's evening, while paths can be laid in a matter of minutes to create walkways to focal points in the garden.
6. Walls and fences
Larger gardens can benefit from being divided into sections, with walls or fences to mark the boundary. A walled garden within a larger open garden creates privacy and can be a magical place for small children to explore.
7. Rockeries and raised beds
You can build raised beds and rockeries above ground level with zero excavation. Just choose your preferred type of retaining wall, from rock to stacked sleepers, and fill the interior with good-quality topsoil ready for planting.
8. Long-term planting
If you normally only plant annuals, consider creating a more established garden by planting out some perennials that will return year after year, or some deciduous and evergreen shrubs that bring height and year-round health while still reflecting the changing seasons.
9. Handy hydration
While it's not landscaping in the strictest sense, rigging an irrigation system is a good way to take the hassle out of hydrating your beds and borders. Lay irrigation hose to the main planting areas in your garden and watering your plants becomes a matter of turning on a tap.
10. Somewhere to sit
At the end of all your hard landscaping work, you're going to want somewhere to relax. Creating somewhere to sit in a garden ensures focal points get noticed and makes it somewhere to stay instead of just to walk through, whether you opt for a complete patio furniture suite or just a built-in or standalone bench by a pond or flowerbed.