5 Garden Maintenance Tasks To Keep On Top Of
Keeping on top of the garden doesn't need to take a lot of time. Regular garden maintenance is the trick to making your garden summer-ready. Click through to read more!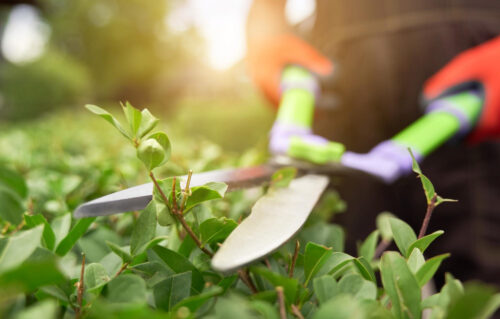 For many of our customers, their gardens are their pride and joy. They spend every possible waking moment in their garden, whether that is maintaining ,developing, hosting guests or simply sitting back and enjoying the sun.
However, we appreciate that many people do not have the luxury of spending as much time as they'd like in the garden, and as a result, tasks can be neglected. The fact that life gets in the way is completely understandable, but breaking down annual garden maintenance into smaller, more manageable tasks can make the whole ordeal much easier to keep on top of, even for those with busy schedules.
So without further ado, here is a checklist of the most common garden maintenance tasks that you'll likely need to keep on top of if you want your garden to be tip top shape this summer!
Weeds
We've all experienced the pain of weeds before, or seen those gardens of horror that have been reclaimed by them. There are many different varieties of weed, but most can be split into two categories, annual and perennial. The former, as the name suggests, take seed each year and should be removed annually to stop them spreading.
Some annual weeds, such as groundsel, take seed multiple times per year and can usually be maintained by pulling them up whenever you see them. Annual weeds that seed only once per year can usually be taken out at the root, then you don't need to worry about them again for another year.
Perennial weeds, such as field horsetail and dandelion, can be a bit trickier to keep on top of due to their stronger, deeper roots. Depending on the type of weed, you'll likely need to use weed-killer to completely eradicate it. Alternatively, you can use some of our weed membrane to stop them from overtaking your garden.
For more information regarding types of weeds and the best ways to deal with them, check out this handy guide.
Shrubs
Shrubs are perennial plants that can be categorised somewhere between weeds and trees. They can grow fairly large, fairly quickly, and can really start taking up space if they are left unattended. While some gardeners may be tempted to try to cut them down or even eradicate them from their garden completely, this might not always be necessary.
If you completely despise the shrub, then it's probably best if you remove it. However, if you like the way it looks but it takes up too much space then you might be able to experiment with it - some shrubs can add loads of character to the garden.
Removing the shrub is a fairly simple process but it will take a bit of work! It involves removing the branches of the shrub, removing the root and digging out the stump. For more details on tools and techniques to help you remove shrubs, take a look at this How To.
Patio
If your garden is paved rather than natural, it's likely because you wanted a low maintenance garden. While patios certainly are less needy than lawns, there are still a few maintenance tasks that you will want to keep on top of to keep your patio looking pristine.
You should try and give your patio a sweep every few weeks - if you keep on top of this dirt and debris won't build up to the point where cleaning your patio becomes a real chore.
If you're serious about keeping your patio clean, then you should also consider giving it a scrub a few times a year. We recommend using hot and soapy water for most patios, although you might want to use some designated cleaning products if soap and water doesn't quite cut it. Be wary of using a jet washer, as this can damage some kinds of concrete paving.
If you've neglected your patio for a few years, you might want to hire a professional to repair it, or get a new one put down in time for summer. We stock a massive range of block paving, decorative paving, and natural stone paving - all available for nationwide delivery - if you're looking for some inspiration.
Decking
If you stay on top of your decking with semi-regular maintenance and an annual full clean, you can make it last a lot longer and avoid any unnecessary rot or damage that can lead to pricey repairs.
Similar to what you do with a patio, you'll want to begin by removing all the furniture from your decking and sweeping off any twigs, branches, dirt and other debris. You'll then want to wash it - we recommend using a hose pipe over a jet washer, as a jet washer can harm your decking if used incorrectly. If you do use a jet washer, make sure the nozzle is held a good distance away from the decking, and powered using the lowest setting.
Once you've sprayed off all residual grime, you should give it a good scrub with hot and soapy water. When you've done that, give it a rinse and leave it to dry. Repeating this process twice to three times a year should keep your decking looking fantastic.
If you want your decking to last a long time, it's also important to reseal it from time to time. We recommend you do this once per year, but certainly no less than once every two years. You could do it after the cleaning process we've detailed above. When you do, make sure you follow these important Dos and Don'ts to ensure you do not damage your decking.
Fence
Just like your decking, your wooden fencing will need a bit of maintenance every now and then to ensure that rot and other damage is mitigated. Unless you see urgent work that needs doing, your fence shouldn't need active maintenance very often - it's worth doing a check annually but probably no more often than that.
The great thing about wooden fencing is that each panel can be inspected for damage individually, which means parts of your fence can be repaired / replaced without spending cash on overhauling the whole thing.
It should be fairly clear to see when work needs to be done to your fence. As you inspect each area, look out for nails that might need hammering back in or replacing. Similarly, look for signs of rot and structural damage, and make a tally of how many fence panels you might need to replace. Remember that overgrowth (we're looking at you, shrubs and weeds!) will also damage fencing, so consider trimming any vegetation that is getting dangerously close to your fence.
Forward Builders' Supplies
Garden maintenance doesn't have to be time consuming. This is especially true if you opt for low maintenance materials to landscape your garden. At Forwards, we stock a range of landscaping materials specifically targeted at those customers who prefer low maintenance gardens.
Our low maintenance range includes artificial grass, block paving, decorative aggregates, decking supplies and much, much more. You can browse our whole range here on our website, and order online for nationwide delivery in just a few clicks. For more information about our products and services, please do not hesitate to get in touch with our team on 033 0055 2500. Alternatively, feel free to use our online contact form and we'll be in touch.