5 Garden Trends For: Tiny Gardens, Indoors Gardens & More
Looking for new inspiration for the garden? We have taken a look at some of the latest garden trends to see what's hot and what might inspire you this summer!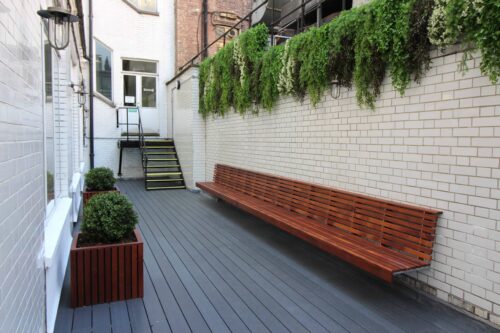 Summer is well and truly on the way. Now that we are past the cold and rainy season, we have certainly noticed the temperatures getting warmer and the sun coming out to play a little more often. For garden enthusiasts, spring is an extremely exciting time because we can begin spending more time outdoors, and preparing our gardens for the summer season. 
At Forward Builders, we have scoured the web and social media platforms to hunt down some of the most popular garden trends occurring in the UK at the moment, as well as what we should expect to see throughout the year. We hope that some of these ideas might give you inspiration for your own garden, and perhaps give you something to look forward to as the days get longer.
So, without further ado, here are some of the top garden trends for 2021! 
Mimicking Indoor Space, Outdoors 
Last year, you would not have been alone if you said that you were getting a bit fed up of staring at the same four walls. With that in mind, it is no surprise that people are looking for ways to transform part of their gardens into genuine living spaces, as though it is another room in the house or an extension of their home. This will be more important than ever for a lot of people, who will only be able to host guests outdoors until summer comes around.
There are loads of ways for people to get creative with this trend. Perhaps the most common is grabbing sofas and cushions - maybe even a hammock - and creating a comfy, homely outdoor space to host friends and family as an alternative to the living room. Other innovative ways of extending indoor space outdoors is by creating an outdoor kitchen, dining area, or bar for when the real parties can (hopefully) begin later in the summer!
Environmentally Friendly Gardening 
Creating an eco-friendly garden is a fantastic way to do your part for the environment, and as a bonus, it can look great, too! One of the most popular ways of doing this is through growing your own food, which reduces your carbon footprint and can even save you money. This trend can likely be attributed to the fact that more and more people are becoming vegan or vegetarian, as well as a wider acknowledgment of the health benefits of organic food. 
Another increasingly popular way to be more environmentally friendly in the garden is through wildlife gardening. This is the act of maintaining a garden with the conscious effort of making it more friendly to wildlife, which in turn makes it a happier place for the birds, bees, and of course, you! Also known as 'ungardening' or 'rewilding', this all about removing pesticides and other artificial methods of gardening and letting nature run its course.
Tiny Gardens
In the past, people who owned smaller gardens might have been less inclined to turn it into a space worth spending time in. However, in the last 12 months people have been trying to make as much use as possible out of outdoor space. Tiny gardens can be seen as an extension of 'Tiny Living', another trend that has taken off in the last few years as a way of life that makes the most out of minimal space. Whereas Tiny Living has a complete lifestyle overhaul, having a tiny garden is a way of experiencing the trend without having to change your whole life.
So, what are the common features of a Tiny Garden? Well, making use of vertical space is a big one. If your garden is limited on floor space, make the most of walls and fences. Paints, lights, hanging plants and more can truly transform your garden without taking up any floor space. Another simple tip is to make the most out of space saving furniture, such as folding chairs and tables that can be neatly tucked away when not being used.
Take a look at this great guide for more information about making the most out of your tiny garden.
Family Friendly Gardens
With many of us expecting to once again be able to host our families this summer, a lot of people are going the extra mile to make their garden more child friendly. Don't worry, this trend isn't about turning your garden into a children's playground, it's about creating safe, designated zones for the little ones to enjoy.
What you decide to do will of course depend on your budget. It probably isn't worth spending thousands of pounds on a climbing frame as children tend to outgrow these things quite quickly. Consider child friendly ground materials such as artificial grass or bark, which will allow for games without worrying about injuries. If you fancy a bit of DIY, why not buy some timber and put together a fort or treehouse? You could even have a designated allotment just for the little ones, where they can learn about the outdoors in a fun, practical way. 
Bringing Your Garden Indoors
Contrary to much of what has been discussed so far, another big trend in 2021 is creating a more garden-esque landscaping indoors. This can also be attributed to the fact that the world has pretty much been closed for a year, and people want to make the most out of the space they are spending almost 24 hours, 7 days a week in! This was especially true in the second lockdown - this winter was a particularly cold one which meant it was very difficult to spend time in the garden.
There are loads of ways to bring the garden indoors. For example, windowsill allotments for herbs and even some vegetables is a great way to bring nature into the home, and can fill your rooms with a beautiful, natural fragrance. Similarly, house plants, both artificial and natural, can be used to make indoor spaces feel a little more natural, but careful planning will need to be in place if you want your real plants to succeed. 
Forward Builders' Supplies
At Forward Builders, we love to keep up to date with the latest garden trends. By staying ahead of the curve, we can make sure that we are always able to meet our customer's needs. If you are looking for the materials or furnishings to transform your garden this season, we are your one-stop shop for all of your garden needs. 
With enormous ranges of decorative aggregates, artificial grasses, garden furniture, water features, decorative paving and more, we can help you make something special. All of our products are available for nationwide delivery, or collection at our site here in Ellesmere Port. For more information and advice, check out the rest of our blog or feel free to give us a call on