5 ways to make your garden pet friendly
Pets love the outdoors as much as we do (or more!), so it's important that our outdoor spaces are safe for them, too. Click through to see some of our tips.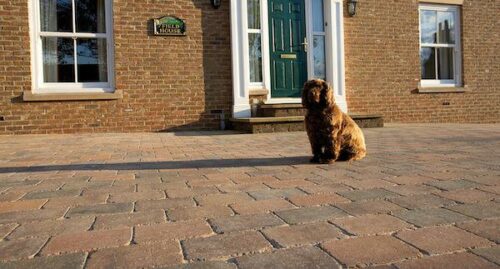 If you own a pet, chances are you will know what we are talking about when we say they are one of the family. Pets offer friendship, companionship and unconditional love - whether that be a dog who is always there waiting to cheer you up when you get home, or a cat who sleeps on you every night, gently purring as you drift off to sleep. It's imperative, therefore, that our outdoor spaces are safe for our furry friends, so we've put together a guide of sorts to ensure that your garden is safe for your pets to enjoy.
Ensure your garden is secure
Before you even think about letting your dog out in the garden, it's important that you check the entire perimeter of your garden to ensure that there are no holes in the fence, gaps for your dog to squeeze through, or gates that aren't attached properly. If you don't have proper fencing, invest in it because your dog will find a way out if given the chance. You should also make sure that all gates and fences are relatively high so your dog cannot jump over it.
Cats, on the other hand, tend to wander. It's in their nature, and no fence or gate will stop them exploring. Making sure that posts, gates, and other surfaces they will likely jump on have no points or jagged edges will ensure your cat doesn't injure itself.
We should also point out here that dog theft is unfortunately rife at the minute, meaning that you should take every precaution necessary to secure your garden.
Keep shed locked and secure
On a similar note, locking the garden shed is imperative to keep your pets safe. Your shed will likely be full of poisonous chemicals and sharp tools, which could have disastrous consequences for your cat or dog. Whenever you're not using the shed, it's best to keep it locked with a padlock, even if you're in and out of it throughout the day.
If your shed is old, there might even be small holes in the roof or walls for a cat to squeeze through. Cats love privacy, and they might view the shed a perfect place to be alone given the opportunity. Check the structure of your shed and carry out repairs where required.
Consider Artificial Grass
If your dog is going to be spending a lot of time in the garden, then having a natural lawn might not be the best idea. Dogs and cats doing their business on a natural lawn will cause damage and discoloration over time, ruining your lawn rather quickly. Similarly, dogs have the tendency to dig up laws, which again, causes fairly irreversible damage and can quickly lead to a messy, unpleasant garden. Most types of artificial grass are developed with pets in mind, only requiring a quick rinse every now and then to keep them in good condition. Furthermore, modern iterations of artificial grass are becoming increasingly like the real thing, so there are plenty of options available if you desire authentic looking grass.
Even if you do not wish for your entire lawn to be artificial, you could create a 'pet zone' cut off from your main garden which is landscaped with easier to clean materials. Click here to view our artificial grass range.
Avoid Planting Toxic Plants
It's extremely important that you make yourself aware of plants that can harm your dog. Some plants that are completely harmless to humans could be extremely harmful to pets, and many of them are not uncommon to be found in UK gardens. Common garden plants that are harmful to dogs include acorns, spring bulbs (daffodils, tulips, and spring crocus), prunus fruits, and more. A comprehensive list of plants that are toxic to dogs can be found here.
While cats are generally more picky about what they eat - and thus less likely to consume enough of a toxic plant to harm them - it's still important to be aware of what is harmful to them, too (even if it's more difficult to police what they consume). Many plants that are toxic to dogs will also be toxic to cats, but again, you can see an extensive list of plants that are toxic to cats here.
It's not all doom and gloom; there are a plethora of plants that are pet-friendly so you can still have a beautiful, vibrant garden. These include; Camellia; Lavender; Garden Marigolds; Magnolia Bushes; Sunflowers; Polka Dot Plants, Cornflower, Berry Plants, Honeysuckle, Orchid, Venus Flytraps, and more.
Be Careful With Chemicals
A lot of popular chemicals used either for plant growth or to deter wildlife can be toxic to animals. This includes non-organic slug and snail pellets, which can cause nausea and vomiting, seizures, diarrhea and more. There are many ways to repel slugs and snails organically, and it is important to deter slugs and snails because they can also be very harmful to pets if they are consumed. Similarly, you should also check that any fertilizers you use in the garden are pet friendly. There are plenty of shop-bought fertilizers that are designed to be non-harmful to pets, and there are plenty of fertilizer alternatives to use such as compost, manure, and fish emulsion.
Forward Builders Supplies
At Forward Builders, we have everything you need for a pet-friendly garden. Perhaps your garden fence isn't as sturdy as it should be? We have plenty of fencing supplies that can be used to restore your perimeter and ensure that your dogs cannot escape. Or maybe you want to invest in some dog-friendly surfaces? We have a vast range of artificial grass, block paving, natural stone paving and other dog-friendly landscaping materials.
Whatever you require, Forward Builders are your one-stop shop. All of our products are available for delivery nationwide, or available to collect from our site in Ellesmere Port, Cheshire. For more information about our products and services, please do not hesitate to call us on 033 0055 2500, or pop us a message via our online form and we'll be in touch very soon.