The Ultimate Guide to Buying Artificial Grass and Turf
Artificial grass can be a big investment, and it can be difficult to know where to start. We've put together the ultimate guide for anybody who is considering purchasing artificial grass or turf.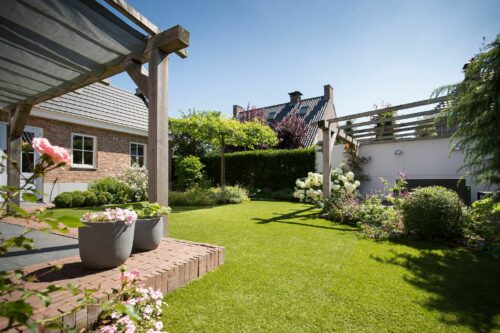 Over the last ten or so years, the UK market for artificial grass has grown, and it shows no sign of slowing down. As with any industry, an increase in demand ensures that manufacturers are quick to release new and varied products to meet consumer needs. While this is ultimately great, it can also be a little confusing to understand which type of artificial grass is the most suitable.
With this in mind, we've put together a buyer's guide, intended to help you understand everything you need to know before making a purchase. First, let's take a look at some of the benefits of artificial grass.
The Benefits of Artificial Grass and Turf
There are many benefits of artificial grass, from the obvious ones to the ones you might not have thought of. In truth, the ability to use artificial grass during or after a downpour is just the tip of the iceberg.
Perfect Grass, All Year Round
Let's face it; us Brits are well accustomed to a downpour, even in the summer! While rain is necessary for a healthy, vibrant garden, it can make a mess of our lawn, especially if the lawn has regular footfall. With artificial grass, you no longer need to worry about how your garden will look after the rains come. If anything, a bit of rain does the cleaning for you!
On the other hand, dry, hot weather that we (occasionally!) get during the summer can have a deterrent effect on natural grass. Indeed, natural grass that is not regularly maintained during the arid months will become dry and discoloured. While the rains will come eventually to restore the majority of its vitality, that doesn't change the fact that your lawn may look a little shabby during the summer months, which is likely when you'll be using it most!
Artificial grass is perfect for practical use come rain or shine. If the little ones want to play football on the grass, you don't need to worry about them getting muddy or ripping up the lawn if there has been a bit of rain.
Low Maintenance
One of the best things about artificial grass is the fact it takes such little effort from you to maintain, which gives you much more time to enjoy the garden. With natural grass, you could be spending hours each week mowing, watering, or even fertilising. None of this is required with artificial grass and turf; very little effort is required to keep it looking as you intend it to.
This is ideal for those with busy work schedules or lifestyles. Similarly, artificial grass can be the perfect solution for the elderly or disabled, who may struggle with mobility. People who struggle to get around often think they cannot have a beautiful looking garden, but that is no longer the case!
Cost Effective
While artificial grass can seem expensive initially - especially if it is installed professionally - it will ultimately be a cost effective solution to natural grass over an extended period of time. Artificial grass can last for up to 15 years (and longer in some cases), and during this time you will be spending very little on maintenance. Maintaining the quality of natural grass can be extremely expensive over time, and can often end up costing you more money in the long run.
If you are looking for great value, we stock a variety of artificial grasses at Forward Builders that we ensure are affordable without compromising on quality.
Allows For Flexibility
Not every outdoor (or indoor!) space is suitable for natural grass. To truly thrive, grass needs a lot of space, nutrient-rich soil, sunlight, and plenty of water, and these essentials aren't possible to achieve everywhere. Ideal locations for natural grass are quite limited, which certainly isn't the case for artificial grass. Play areas, roof-top terraces, offices, bars and hotels are just a few settings that could benefit from artificial turf. Urban areas in particular could see the biggest benefit, as there is often a lack of suitable conditions for natural grass to be used.
Furthermore, artificial grass allows you to have a more flexible lifestyle. We've already highlighted that less maintenance means more time to do the things you love, but there's so much more flexibility than that. For example, you might love spending time in your garden, but travel a lot either for leisure or work. You can travel happy with the knowledge that you'll have a lovely garden to return to, not an overgrown jungle!
Child Friendly
We know it's essential that children have outdoor space to enjoy. Little ones will be able to have the same amount of fun as they would be able to have on natural grass, whether it's kicking around a football or playing on the climbing frame. Most artificial turf is smooth and soft, and will cushion a child's fall with even more effectiveness than natural grass. And we've said it already but let's make it clear: NO MUD!
And Fur Friendly…
Around half of UK households have four-legged friends running around, so it's important for them to be considered when making changes to the garden. It's remarkably easy to clean up after your pets if they do their business on the artificial grass, and you don't need to worry about stains. There are products designed specifically for removing pet spoils from artificial grass.
And of course, there's the added bonus for owners of mischievous dogs; they'll no longer be able to dig holes in your grass and trample the mud right through the house and onto the sofa.
Are There Any Negatives To Artificial Grass?
While the benefits of artificial grass undoubtedly outweigh the cons, it would be disingenuous of us to claim that there are no drawbacks to the product. While most of the cons can be mitigated, there are still some that you should be aware of:
Due to the grass being artificial, it will not attract the same attention of wildlife as natural grass will, leading to a less biodiverse garden. However, this can be made up with plenty of flowers, trees, and bushes.

As mentioned earlier in the article, the initial cost can be expensive, especially when fitted professionally (which we recommend).
During particularly hot summers, artificial grass can get very hot. While this is never enough to cause injury, it can still be uncomfortable to sit on. A blanket or other cover to use as a barrier between yourself and the grass can solve this problem.
Although artificial grass will last a long time, it won't last as long as well-maintained natural grass. That being said, many people will not maintain their natural grass properly, and thus natural grass will start looking worn out far before artificial grass for the average homeowner.
Some manufacturers develop artificial grass in a way that damages the environment. With a bit of research beforehand, you can ensure you are sourcing your product from somewhere that meets your ethical standards. We're pleased to say that our entire range of artificial grass is 100% recyclable.
Which type of Artificial Grass is best for me?
With the increasing popularity of artificial grass, it's only natural that there is a wide selection of products available on the market. It's always great for the consumer to have a wealth of choice, but it's essential to understand which types of grasses are appropriate for what you want. With this in mind, ask yourself questions such as:
For what purpose am I purchasing artificial grass?

Is it for practical use, or simply decorative purposes?

How much am I willing to pay?

What size area does it need to cover?

Does it need to be pet friendly?

Will the grass have a lot of footfall?
When you take the time to consider your budget, as well as the activities you want the artificial turf to be used for, you'll be ready to begin looking at specific products to suit your needs.
Types of Artificial Grass
Polypropylene: The cheapest option available on the market, and also one of the most popular. Polypropylene grass has a wide variety of styles and shades to choose from, and when used right, can really bring a space to life. However, being the cheapest, it does have its downfalls. It's the least durable material, which obviously affects its lifespan. We wouldn't recommend investing in this type of artificial grass if the area it covers will have a lot of use. Furthermore, Polypropylene grass often ends up looking the most artificial. That being said, it can be perfect for smaller areas, especially on a budget.
Recommended For: those with a small budget, or aren't too worried about aesthetics.
Nylon: On the other end of the spectrum, nylon grass is usually the most expensive, but with good reason. Nylon grass is incredibly durable, and can withstand all kinds of use, from garden parties to activities a little more rough and tumble! Unfortunately, nylon grass can be extremely expensive for large areas, but for smaller gardens or patches that you want to benefit from long-lasting, sturdy, and natural looking grass, nylon could be the perfect option for you.
Recommended For: Larger budgets or smaller areas.
Polyethylene: This type of artificial grass is great for those who have a reasonable budget but don't want to break the bank. Good quality polyethylene grass is wonderfully soft, spongy and durable, and often looks indistinguishable from natural grass. Whether you're looking to surface a garden, office, playground or football field, polyethylene is certainly worth looking at.
Recommended For: Reasonable budgets, all settings but particularly suitable for sports and other practical purposes.
Polyethylene products we stock: Lido Plus, Fashion, Fantasia, Putting Green Elite, Valour Plus
Frequently Asked Questions About Artificial Grass
How Do I Maintain Artificial Grass?
While artificial turf takes nowhere near the amount of maintenance required for natural grass, there are still actions you can take to ensure your product lasts as long as possible. To maintain artificial turf, you should:
Sweep debris regularly, such as leaves and pines with a stiff, natural bristle broom.

Clean up after your pets by picking up waste and spraying with water (the latter should be done semi-regularly regardless of pets).
Protect your artificial grass from extreme heat - although this should not be a problem here in the UK! It might be wise to invest in a cover just in case we have one of those rare heat waves - you'll only need to cover it when you're not using it!
What Is the Best Thickness for Artificial Grass?
The optimal thickness of your artificial grass will depend on your taste and desire. For shorter grass that looks freshly cut, approximately 25mm is optimal. If you would like a space that looks a little more natural, between 30-40mm is ideal. Be careful not to request taller grass, as it will slump under its own weight and end up looking unkempt.
Will Weeds Grow Through Artificial Grass?
While possible, if properly installed the only weeds you have a chance of getting will be around the perimeter of the artificial grass. These surface weeds should be fairly easy to maintain. It's possible for weeds to grow through the turf, but if an underlay is properly installed then such an issue is preventable.
Can I Install Artificial Grass Myself?
If you're feeling up to the challenge - absolutely! You can find our video for installing artificial grass below:

Forward Builders' Supplies
We hope this guide provided you with some useful information about artificial grass and turf. At Forward Builders' Supplies, we supply an array of artificial grasses to suit the needs of all budgets and tastes.
Available both in store and via nationwide delivery, our friendly team will do all it takes to ensure you are provided with the best product for your needs, and provide you with our flagship service that keeps customers returning again and again.
Based in Ellesmere Port, we're open every weekday, as well as on Saturday mornings. If you would like to find out more about our products, please do not hesitate to give us a call on 033 0055 2500, or email us at hello@fowardbs.co.uk. Alternatively, you can always fill in our contact form and we'll be in touch with you very soon.