What Are The Benefits of Porcelain Paving?
Porcelain paving is one of the most popular garden paving types on the market and it is going nowhere! Our latest article provides you with the long list of benefits of porcelain paving and why it is a great choice for your garden.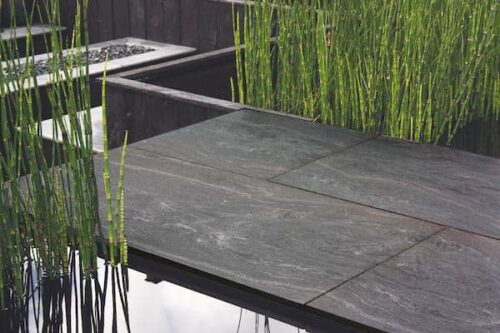 Porcelain paving is one of the most popular types of garden patio in the market. This is due to the many different benefits that come with adding this type of paving to your outdoor space. Whether you are looking for a sleek stone design or a wood finish, there will be a type of porcelain paving to meet your tastes. Some of the benefits of adding porcelain paving to your outdoor space include durability, hard wearing, fade and slip resistance and easy to maintain. This article will explain the benefits of porcelain paving in more detail and we are sure by the end of it, you will understand why it is such a popular choice!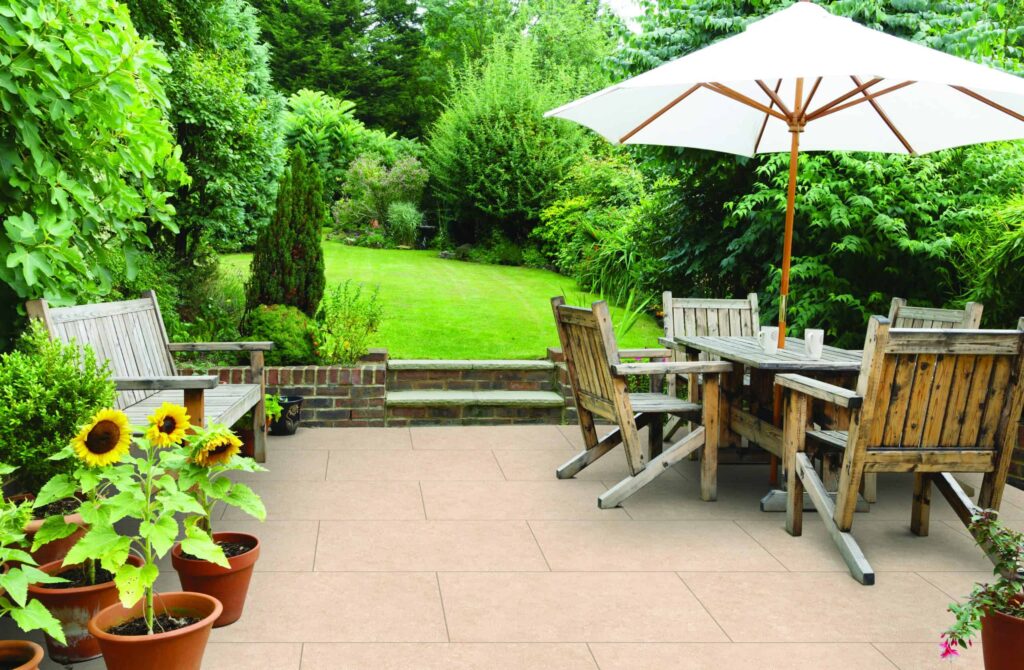 What is Porcelain Paving?
Porcelain paving is a paving type made from highly compressed clay tiles. These tiles have been inkjet printed with a high resolution image which allows them to replicate natural stone or wood. The tiles are fired at an extremely high temperature which causes the tile to become extremely tough and resistant with exceptionally low water absorption. During the firing, the clay and other minerals become molten which is what provides the finished slab with incredible strength. You will find that porcelain paving tiles will be thinner than stone or concrete slabs because of their strength.
Benefits of Porcelain Paving
Slip Resistant
Many people may think that porcelain paving is slippery, due to its smooth appearance. However, most porcelain paving has a high anti-slip rating, which makes it a great and safe choice for your next patio project.
Fade Resistant
Not only is porcelain paving slip resistant, it is fade resistant. Porcelain paving is unaffected by sunlight so the colour will not fade or change over time. Now we know that we aren't exactly blessed with lots of sun in the United Kingdom (apart from a week or so in July!). But if you start to notice your outdoor area has been affected by the elements, it can be extremely disappointing. However, with porcelain paving, this won't happen!
Value for Money
Porcelain paving is always considered to be a premium product and thought to be more expensive when compared to other patio products. However, this is now changing due to import costs of sandstone (most of the time it is imported from India). We stock a range of porcelain in our yard that is cheaper than sandstone!
It is important to think of the benefits of porcelain paving beyond the initial price. This type of paving, and the process the materials go through, makes it an extremely durable product and can withstand many weather conditions. This means you can expect your porcelain patio to last a long time whilst always looking great! Porcelain paving provides great value for money.
Modern
If you enjoy the modern look over a more traditional style, you want your garden to reflect current design trends and the latest finishes. Porcelain is an ideal choice if this is the case for you. The manufacturing process of porcelain paving allows for a wide range of colours and finishes. It gives you a great opportunity to select on-trend colours and styles. If you look at other modern gardens for inspiration, you can expect to see smooth clean lines and minimal joints. Once again, porcelain products will provide you with these features.
Here at Forward Builders, we have stock a range of porcelain paving types to meet your modern design requirements, including Arezzo Silver, Hermada Chateau and Verona Dark.
Design
Porcelain paving is man-made which means there is a lot of control over the colours and finishes on the final product. This is a huge benefit over natural paving stones. As we mentioned, the wide range of colours and finishes means that you are able to create a more modern design with on-trend colours and styles available. This way, you really can create a garden or outdoor space that is unique. We stock a variety of different brands of porcelain paving, providing a range of colours and finishes that will help you provide your unique outdoor space. Brands we stock include Arezzo, Jewel and Station.
Hard Wearing
Porcelain is very strong and hard wearing material, this is because it is made from refined clay and naturally occurring materials. These materials go through the vitrification process where they are exposed to significant pressure and fired at high temperatures in a kiln. This means they absorb very little water so during wet or freezing conditions, the weather has little impact on the quality of the tile. With porcelain paving, there is no need to worry about cracks and it will last for many years.
Easy Maintenance
If you have a lot of spare time to spend on garden maintenance, you are one of the lucky ones! We know that not everyone has this luxury, which is why porcelain paving is a great option. It is a low and easy maintenance patio solution and is one of the easiest paving types to keep clean. As mentioned, they absorb very little water, meaning they are resistant to stains, frost and can be resistant to moss and algae growth. To maintain the fresh look of your patio, the cleaning process couldn't be any simpler, simply clean with hot soapy water. Keeping your porcelain paving clear of loose debris such as compost, leaves and grass will enhance its lifetime. It is always a great idea to pay special attention to any of the areas of the patio that may have plant pots or garden furniture on.
What Is The Difference Between Ceramic and Porcelain?
To explain it simply, the difference between the two is that porcelain tiles have a finer composition than ceramic. The tiles are fired at a higher temperature and they are far more heavily compressed than ceramic. These factors mean that porcelain slabs have more durability and a major difference is porcelain tiles absorb much less water. This is why porcelain tiles are an ideal choice for patio areas, garden paving and other outdoor uses. Whereas, you will often find ceramic tiles being used indoors.
Forward Builders Supplies
If you are looking to add porcelain paving to your outdoor space, look no further! Here at Forward Builders, we are proud to offer a fantastic range of porcelain paving and offer nationwide delivery. We are a builders merchant based in Ellesmere Port and have over 40 years of experience in the building and landscaping industry. Over the years we have built a reputation for being a reliable company with excellent customer service.
If you have any questions or queries regarding porcelain paving or other products we offer, our team will be happy to help. To get in touch, contact us through our online chat, call us on 033 0055 2500, or fill out our online form.