Decorative Stones: Why and How To Use Them
Decorative stones are an increasingly popular choice and it comes as no surprise. Landscapers have been using them for many years due to their many advantages. Let us talk you through these and their uses!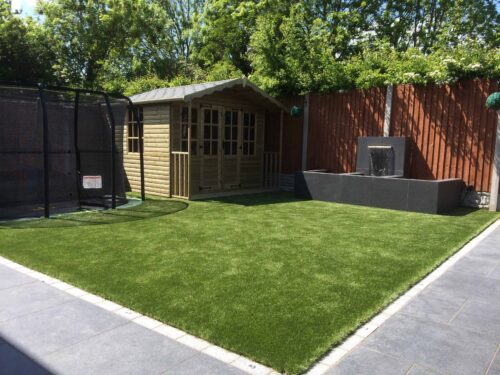 Decorative stones are an increasingly popular choice for gardens and landscaping and it comes as no surprise. Landscapers have been using them for many years due to their many advantages, including flexibility and simple maintenance requirements. They are a beautiful addition to any garden or landscape, if you haven't discovered them yet- now is the time! With more and more people showing concern when it comes to water conservation and chemical use in their gardens, decorative aggregates are a great alternative to other garden products.
If you are thinking about adding decorative stones to your garden or landscaping, this is the article to convince you. To start, here are just a number of reasons why you should consider decorative stones.
Why Use Decorative Stones?
Low Maintenance
This is probably the most noticeable benefit of decorative stones. Once decorative stones have been laid they require little, if any, maintenance or upkeep. Decorative stones can be used in place of mulch. They are a great alternative as they will not need to be replaced. Mulch, such as bark, needs to be replaced every year as the material will either decompose into the soil or be displaced. Not only is this more effort for you, it is also an added expense, which is no small consideration. Although decorative stones have a larger price upfront, there are no other expenses once it has been installed. Additionally, if it is installed with a semi-permeable weed fabric barrier, it will block most of the sunlight so weed growth will not be a concern either. This again, shows how low maintenance decorative stones are.
Plant Protection
Decorative stones are excellent at protecting your plants from the weather. In the summer, plants are vulnerable to drying out. The stones take the brunt of the heat and the light from the sun, providing constant protection to the plants roots. This increases the chances of the plants surviving the dry spells during the hot summer months. In the winter, the plants are at risk of dying from becoming too cold. The stones add another layer of insulation to prevent too much heat from escaping the soil so help protect the roots from becoming too cold.
Variety of Colours
Decorative stones are available in a variety of stones colours and textures, satisfying your style requirements. This is another advantage of decorative over other garden and landscaping products. Mulch, for example, has a very limited range of colours available. You are most likely to find mulching products in brown and black, sometimes even in grey. But any other colour will be hard to come by. Decorative stones, on the other hand, do not have this drawback. Take a look at our range of decorative stones and see for yourself!  It is important to bear in mind that the darker colours will absorb and retain more heat. Whereas the lighter colours will provide your will a more cooler ambient space.
Functionality and Versatility
Decorative stones are very adaptable and can become a very appealing part of your garden design, this is what makes them so popular with landscapers and garden designers. With their numerous different types of rock, colours and sizes, it provides many opportunities for fascinating design combinations. This means that it can be used to effectively complement your flowers and plants.
Unaffected by The Extremes
Decorative stones have viability in extreme heat or cold and even in very dry or wet conditions. So, for example, if you live in an area of extremely high rainfall, or if erosion causes an issue, they are great for ground cover. Decorative stones present exceptional drainage efficiency. The stones allow larger amounts of water to be filtered away, so they are great for keeping your plants or flowers from drowning during times where you have heavy periods of rain.
How To Use Decorative Stones
So, we have discussed the many reasons why you should be using decorative stones in your garden, but how can you use them?
There are many ways you can use decorative stones, here are our top five:
1. Mulch Alternative
As we discussed earlier, decorative stones are great due to being low maintenance and providing great protection for plants. This is why they are an excellent choice as an alternative for mulching products. Mulch is any type of material that is either spread around, or on top of a plant to enrich or insulate its soil. You can use standard products such as shredded wood chips, aged bark or chopped leaves. Decorative stones are a great alternative to mulch as they do a similar role, with less maintenance. They also have better design and aesthetic purposes.
2. Ground Cover
Ground cover is exactly what the name implies, it is a naturally low growing plant that covers the ground quickly and covers the bare soil. They can not be faulted for their ability to cover the ground well, but decorative stones are an excellent replacement and are much easier to maintain. If they are used in the right places, decorative stones are great to split up areas of the garden, supplying your garden with a unique but subtle twist.
3. Borders
If you want to finish off your garden and give it the complete landscaping look, borders are a great way to do this. They can clearly separate individual parts of the garden from each other. Most of the features in the garden will have some sort of border already, whether it is a simple wooden border around flower beds or black pond liner surrounding your pond. Decorative stones can be used to create borders around your garden features. They can improve existing borders, adding style whilst being easy to make and maintain. Polar white chippings are a fantastic decorative stone and are a popular choice for enhancing water features.
Decorative stones are also great at creating pathways that run through your garden. It is an attractive material that can surround and clearly indicate the stepping stones.
4. Ponds
Decorative stones are a perfect choice if you are looking to create a pond in your garden. They can create a ramp for wildlife and can soften the edges of the pond. If you are looking to recreate the feel or look of a river, decorative stones are a great way to do this. However, it is important to be aware of the types of aggregates you are choosing to be around your pond. Make sure you choose stones that are suitable for fish and other aquatic life. Some stones, like those with lime content, will affect the PH of the water in your pond. This makes it unsafe for aquatic life. Most suppliers will provide stones that have been washed before purchase, but it is always worth washing them before adding them to your pond.
5. Driveways
Outside of the garden, decorative stones are ideal for creating a relaxing and traditional driveway. If you are looking for an economical option to cover up a large driveway, shingle is a great choice. Angular chippings. such as Golden Flint Gravel, are one of the best choices for driveways, they fit together tightly. This provides a firmer feeling under the foot or under vehicles and are less likely to roll downhill than rounded stones. The smaller the chippings are, the tighter the fit. Decorative stones are a much better choice for driveways than slate. Slate is not able to stand up to heavy loads which is why it can break under the weight of vehicles.
If you are looking to use decorative stones for driveways, they should always be laid on a firm base of hard core with a suitable edging. They should be applied in several layers with each layer being compacted and rolled separately. To prevent the stones from moving around on flat or sloped surfaces, a ground stabilising mesh can be used.
Forward Builders' Supplies
Here at Forward Builders, we have a fantastic range of decorative stones for your garden or landscaping project. We work with trusted suppliers across the country to source only the most durable and beautiful stones. If you are looking for decorative stones, we are confident you will find exactly what you are looking for. We have over 40 years of experience in the gardening industry, developing a reputation for being first choice. To get in touch with us, please ring us on 033 0055 2500, chat to us through our online chat or fill out our online enquiry form.