Everything you need to know about composite decking
Interested in adding composite decking to your garden? We've put together a guide with everything you need to know.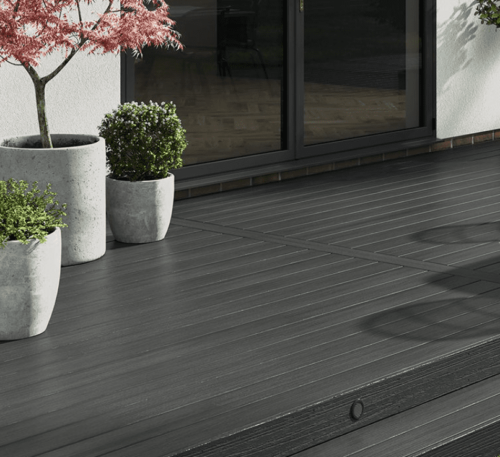 The popularity of composite decking has been growing massively over the last few years, especially over the last couple of summers. Our customers have shown a lot of interest in composite decking both in-store and online, so we thought it'd be a great idea to put together a guide of sorts, highlighting the features and benefits of composite decking. We'll cover as much as we can here, but do not hesitate to get in touch if you have any further questions regarding composite decking.
What is composite decking?
If something is 'composite', it means that it is made up of several different materials or elements. Composite decking is no different - it's usually made up of wood fibres, bonding agents, and plastic, which are basically mixed together, heated, shaped, and then cooled. The finished product is a sturdy material that looks much more authentic than plastic, and is much more durable than wood. 
What are the benefits of composite decking?
One of the reasons that composite decking is becoming so popular is due to the numerous benefits it has. Although we still love traditional timber decking, its composite counterpart has many appealing features, especially for those busy homeowners.
Maintenance
One of the biggest benefits of composite decking is the minimal time and effort required to keep on top of it. It isn't prone to splinters or rot, and as such only required a sweep and a clean every now and then to keep it in top condition. You won't need to give your composite decking anything but a thorough once over every few months, giving you more time to do the other things you enjoy.
Aesthetics
If we're being honest, early renditions of composite decking didn't look so great. It didn't require a close inspection to realise that it was primarily made of plastic, but decades of innovation have resulted in composite decking becoming much closer to traditional lumber decking in appearance while retaining the benefits of composite material.
Durability
One of the most remarkable properties of composite decking is its durability. Whereas timber is susceptible to rot, corrosion, and splintering from the wind, rain, and the cold, composite decking is designed from the ground up to be resistant to weathering damage, and as a result lasts for a long time. This means that composite decking can last over 20 years as long as it's looked after.
Things to consider before buying composite decking
As with every addition you make to your garden (and life in general), there are things you should consider before purchasing composite decking. 
Price
Upfront, composite decking is more expensive than wooden decking. However, when you consider the durability of composite decking, as well as the money you will save on cleaning and maintenance products, it could end up being cheaper over time. Consider composite decking as an upfront investment, whereas lumber decking will require regular outgoing payments to keep in shape, and will need to be replaced sooner.
Appearance 
As mentioned earlier in the article, composite decking has come a long way in terms of its resemblance to wood. That being said, composite decking is not the real thing. If you're looking for a natural, authentic decking, you may prefer to opt for timber decking.
Shaping
While both timber and composite boards can easily be formed into decking, composite decking can be bent, and as a result is more flexible. If you are trying to find decking for a more awkward space, or want to be more flexible in your placement, then composite decking is worth considering. 
What are the different types of composite decking?
Composite decking is available in a wide variety of styles, colours, lengths, and shapes. In addition to this, composite decking can be purchased capped, uncapped, hollow, or solid. You can find more information on each of these types below:
Capped -

This style of composite decking is protected by a plastic sheet, which ensures that the boards are protected from water, increasing overall durability.
Uncapped -

You can purchase composite decking without the aforementioned sheet, although this is only recommended for deckings in dry areas (so we in England are out of luck!) or areas that are sheltered.

 
Solid -

Solid composite decking is sturdier than hollow decking. This means that it's more structurally sound, can take more weight, and is more durable.
Hollow -

Hollow composite decking is still a fine choice for those on a budget. It's also lighter, and thus easier to shape. 
 
How to clean and maintain composite decking
As we've already mentioned, one of the biggest benefits of composite decking is that it takes minimum effort to look after. That being said, you will still want to clean it semi-frequently if you want to keep it looking fresh. Regular cleans and sweeps will eliminate the need for arduous deep cleaning. Even tougher stains should be fine to scrub off with a bit of soap, water, and elbow grease. 
You should also ensure that gaps between boards are checked every now and then, as debris such as leaves and dirt can get trapped. If the debris becomes wet, it'll damage the inside of your composite decking boards.
Although composite decking is water resistant by design, you'll still want to prevent unnecessary contact with water. Composite decking will resist rain, but any puddles of water that pool on it should be drained as soon as possible. Similarly, be sure not to build a decking beneath a point of water runoff, such as a gutter, because the excess water could reduce its lifespan. 
Composite Decking at Forward Builders Supplies
Here at Forward Builders, our composite decking range is incredibly popular. The majority of our decking is supplied by Millboard, one of the UK's most recognised and trusted suppliers of composite decking. With popular styles including Enhanced Grain Coppered Oak and Enhanced Grain Burnt Cedar, we're certain that you'll find exactly what you're looking for.
We also stock Ecodek, an alternative for those on tighter budgets. For those interested in budget-friendly decking, why not take a look at Ecodek Slate Grey Reversible Decking, and Ecodek Welsh Slate Heritage Decking.
If you have any further questions regarding our composite decking, service, or any other products we offer, please do not hesitate to contact us on 033 0055 2500. An alternative option is to fill out our online form with any questions you may have, and our team will be more than happy to respond.