Family and Friends BBQ Checklist - Get Your Garden BBQ Ready
Summer is here, and it's time to have the family and friends over for a BBQ. To help you prep, here's a list of all the essentials!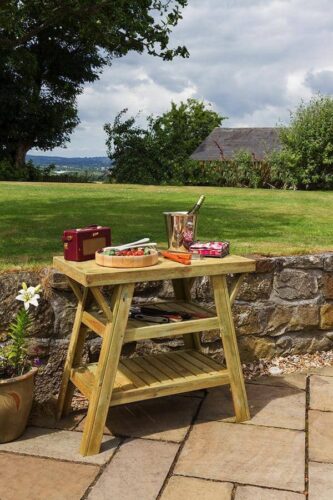 The glorious weather is finally upon us (let's hope we haven't jinxed it there). Now that summer is officially here, it's time to discuss how to get your garden ready for the BBQ season. 
We've put together a check-list of sorts, with all the preparations you'll want to make to get your garden ready for the family this summer. We'll cover all the food and drink you'll need, some exciting garden furniture that will elevate your garden, as well as some small changes you can make to your garden this summer to make it stand out. 
Food & Drinks
Perhaps the most important part of any BBQ (other than the people, of course…) is the food and drink you'll be serving. If you are inviting a large amount of people over for the day, it's likely that you will have a wide variety of dietary requirements to cater for. Add in a selection of picky eaters and it's safe to say that you will want to ensure you have something for everyone. Here's a list of the essentials: 
Meat 
Meat is the staple of most BBQs, and it's these that are most likely to get your guest's mouths watering. Don't forget to pick up:
Sausages (traditional sausages are best for hotdogs, but why not pick up some flavoured ones such as caramelised onion or apple?)

Burgers (beef is great, but so is chicken, lamb, turkey, and venison)

Chicken (consider flavoured chicken such as barbeque, peri peri, or garlic and herb)

Ribs (As with the above, ribs with different marinades will surely go down a treat)

Chops (pork, lamb, or both!)

Salmon (remember to wrap the salmon in foil before throwing it on, and slip a bit of butter, garlic, lemon, and dill inside to truly bring it to life
Don't forget the buns and rolls for your burgers and hot dogs!
Vegetarian & Vegan
Vegetarianism (V) and Veganism (VE) are becoming more and more popular every single day, so you're likely to have guests who fall into one of these categories. Even meat eaters are choosing to eat less meat for dietary or environmental reasons, so you may find that some of the vegetarian/vegan food to be popular with them, too. 
Faux meat, bean burgers, and other alternatives (V, VE)

Vegetable kebabs (VE - peppers, tomatoes, aubergines, red onions, corn, and courgettes all make great grilling vegetables. You could buy / make a marinade or glaze to go with it)

Cheese (V - mainly for the burgers, but a selection of cheeses could be considered)

Halloumi (V - yes, we know this is cheese, but it's in a league of its own! It's also great to grill on the BBQ)

Salads (V, VE - there is plenty of room to get creative with salads, from traditional garden salads to potato salads, greek salads to pasta salads!)

Dipping vegetables / breadsticks (VE)

Garnishes (V)

Fruits (VE - use these for a fruit salad or fruit kebabs)
For some inspiration and recipes for Vegetarian and Vegan BBQ, take a look at this list.
Condiments 
Condiments and sauces are another huge part of the BBQ to get right. What's a hot dog without a bit of ketchup and mustard, right?
Ketchup

BBQ Sauce

Mayo

Salad Cream

Hot Sauce / Sweet Chilli 

Mustard

Hummus

Guacamole

Salsa

Slaw
Drinks
Any BBQ needs a selection of alcoholic and non-alcoholic drinks available. While you may choose to ask people to bring their own booze (BYOB), others will choose to provide it for their guests. For alcoholic beverages, you're going to want ice cold beers and refreshing cocktails; the former can be served from ice buckets, whereas the latter can be placed in pitchers or large bowls. Check out these cocktail recipes for some inspiration!
For the kids and non-drinkers, top-up on fizzy drinks and juices, and you can prepare some non-alcoholic versions of the cocktails above, or throw together a fruit punch or two to really impress your guests!
Essential BBQ garden furniture 
If your garden is going to be the place to be this summer, you are going to want garden furniture that is well-built, sturdy, and looks the part. While we're hoping for the gorgeous summer we all deserve, you're also going to want to prepare for a bit of rain just in case you are unlucky on the day. That being said, here's some furniture that will perfectly supplement your BBQ.
Square Picnic Table
One of our most popular pieces of furniture, this traditional piece is perfect for large gatherings. Sitting up to eight people, this picnic table is made from study timber, with a handy parasol hole in the middle in case your guests are in need of a bit of shade. 
Grey Rattan Hanging Egg Chair
Our rattan hanging egg chair is the perfect addition to any garden, offering unrivalled comfort without compromising appearance. The perfect seat to relax on in the sun, you'll likely have your guests queuing up for a turn. 
Party Arbour
Our fantastic party arbour is a true essential for any garden. It can be easily transformed from a stylish, covered seating area into a party station in which you can place your BBQ, with fold-out tables on each side to place dishes, drinks etc. It also provides a bit of cover to your chef if the rain decides to visit!
Hampton Companion Seat
Relax in style with our Hampton Companion Seat Set, which contains two comfortable chairs with a factory stain finish, as well as a two-layered table to go between the two chairs. The table contains a hole for a parasol for those who prefer the shade. 
Getting your garden BBQ Ready
Now you have got all of your food, drink, and furniture sorted, it's time to give your garden a once over to ensure it's ready for your guests. Don't worry if you don't have loads of time to give your garden a full makeover, there are plenty of quick, simple things you can do to make your garden look more presentable for the BBQ.
Clean Your BBQ
Although some people want to buy a brand new BBQ this summer, doing so isn't practical for everybody. Unfortunately, BBQ's can get pretty filthy and can be difficult to clean, especially when they haven't been used for quite a while. We recommend using a scraper to get any excess grime before giving it a thorough scrub with hot soapy water. You can also try using a baking soda and water paste - mix it up and leave it on overnight before scrubbing it off the next day.
Put Up Shelter
While we hope you have some beautiful weather for your BBQ, it's always better to be safe than sorry. Conversely, even if you have blazing sunshine, it's likely that your guests will want a bit of shade from time to time. Therefore, consider putting up a gazebo or pergola to provide a bit of shelter. 
Hang Some Lights
Chances are that if you've not caught up with your friends and family for a long time, you're going to be chatting or partying well into the night. Therefore, why not hang some lights around the garden for when the sun goes down to elevate the atmosphere? Similarly, you might want some flood lights or LED lights so your guests can actually see what they are doing!
Invest In Some Heating
Even if you have high temperatures during the day, chances are that the temperature will drop quite a bit when the sun goes down. It's important to plan for this, so consider a fire-pit for everybody to gather around in the evening. If that isn't practical, consider a couple of electric or gas patio heaters to keep your guests warm.
Consider Entertainment
Who doesn't love music? There are plenty of high-quality and affordable portable speakers available on the market that you can connect your phone to and bring them out into the garden - just be considerate of your neighbours when it gets later. Similarly, chances are that your BBQ might coincide with the football this Summer, so if possible try and set up an area of the garden with a TV or projector so the footy fans can watch the game!
Forward Builders Supplies
We hope we've got you in the mood to host your own summer BBQ, and given you a helping hand to make sure it runs smoothly. We all deserve some quality time with friends and family this summer, and we hope that you get to do just that. At Forward Builders, we're one of the North West's leading suppliers of building materials, landscaping materials, and other garden supplies. With nationwide delivery across the country, we're confident that we'll have everything you need to get your garden BBQ ready this summer, from composite decking to artificial grass, block paving to water features. 
For more information about any of our products, delivery service, or if you simply want to ask us any questions, please give us a call on 033 0055 2500, or drop us an enquiry via our online contact form.