Everything You Need To Know About Garden Sleepers
Garden sleepers are a versatile and attractive material that is now used in a variety of landscaping and garden environments. If you want to learn more about garden sleepers, you have come to the right place!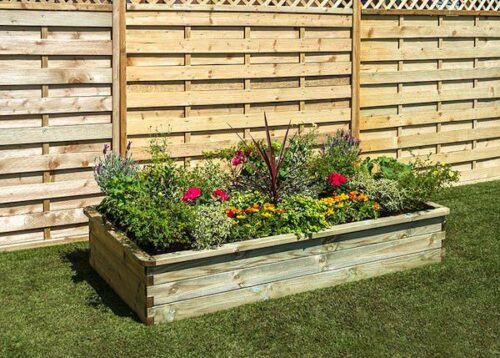 Garden sleepers are large rectangular sawn timber pieces and were traditionally used to lay rail tracks on. They are extremely versatile and now used in a variety of landscaping and gardening environments such as raised beds, lawn and border edging, steps, pathways and retaining walls. If you are looking to create and plan a new garden layout, garden sleepers are a great choice. In this blog we aim to explore garden sleepers in detail to help answer any question you may have about them.
What are garden sleepers used for?
Garden sleepers have many uses, here are some of the most popular ones:
Garden Tables & Furniture- Sleepers can be used to make simple tables and matching benches.
Decking & Patios- Sleepers can provide an innovative alternative to traditional decking boards and create a rustic and relaxing patio area.
Garden Paths- Sleeps can define the edges of your path or can be used as steps to create a stable pathway.
Retaining Walls- Either vertically or horizontally, sleeper can create a retaining wall that can terrace the garden or section off a BBQ or pool area.
Steps- Sleepers can be used to create an innovative and unique solution to a few steps or a whole flight of steps.
Raised Flower Beds- Sleepers can be used to create controlled areas for flower beds.
Water Features- Putting sleepers together can create eye-catching water features.
How long do garden sleepers last?
This will depend on a number of factors; the type of timber, any treatment that they have had, what they are used for and how much exposure they have had to the elements.
As a general rule, hardwood sleepers will last longer than softwood and treated wood will last longer than untreated. Through treating the sleepers with wood preserver and exterior wood oil the life of the sleepers can be improved. It protects the sleepers from biological threats such as mould, algae and insects as well as the elements. These are the same products that you would use to care and maintain sheds, decking and fencing.
Softwood sleepers may last less than 5 years if they are not treated. Softwood sleepers come from pine and it is known that they are less resistant to decay. They need to be treated and maintained and then you can expect them to last for up to 20 years.
Hardwood sleepers have been known to last up to 100 years.
What treatment should I use to protect garden sleepers?
As mentioned, sleepers can be treated with a variety of wood care products including wood stains, preservers, oils and garden paints.
For new untreated or tanalised sleepers, you can use most types of shed or fence treatments. If you are wanting to keep the natural look of the wood, use wax-free, clear, wood preserver followed by exterior wood oil. These sleepers can be stained or painted with garden or shed paint, take a look at our great selection of wood paints and stains!
Reclaimed sleepers can be a bit more difficult, especially if they have been previously treated with tar or other chemicals. If they have been imported from a hot country, they may be untreated.
The key piece of advice for treating garden sleepers is to test the sleeper on an area that won't be seen before treating the entire sleeper.
Why would you use softwood sleepers?
We have just discussed how hardwood sleepers will last a lot longer than softwood so you may be thinking why would anyone choose softwood? Softwood sleepers have many other benefits over hardwood which is why they are the much more popular choice for garden projects.
The first thing to make note of is the 'hardness' and 'softness' of the wood has no correlation to its name. The name comes from the type of seed and the tree that the sleeper is made from. If a tree's seed has a form of coat or covering it is described as hardwood. If the seed does not have any coat or covering, it is bare and generally described as softwood.
Here are some of the benefits of softwood sleepers:
More Economical- Softwood sleepers are the most economical way to use sleepers in your garden. They start at a very cost effective price point.
Weight- Softwoods are much lighter compared to hardwood sleepers. Therefore, hardwood sleepers are more difficult to deal with. Softwood sleepers are much easier to lift, move, cut and position. Also, nails cannot be used for hardwood as due to its strength and density, it is liable to crack or split.
Environmentally friendly- For hardwood to be produced, trees have to grow very slowly to be able to absorb and produce more natural oils. Softwood, on the other hand, grows much quicker. The shipping and production of softwood trees is drastically cheaper and in many cases, multiple trees are replaced for every singular tree that is cut down. Softwood also uses less energy when being cut or dried so the impact on the environment is greatly reduced.
Now you know why softwood sleepers are a hugely popular choice for garden projects, you'll be pleased to know that here at Forward Builders, we stock softwood sleepers.
How do you anchor garden sleepers to the ground?
There are many methods for fixing garden sleepers into the ground. If you are just creating a structure with sleepers, you may not need to fix them into the ground. Their weight is often enough to keep them firmly in place. Alternatively, if you have a concrete base, you can use metal rods that you drill into the sleepers and into the foundations.
How do you stop sleepers from rotting?
Rot, mould and fungal growth can be prevented through wood preservative treatments. These treatments can also help to protect the sleepers against the elements.
You can use any type of wood preserver for new bare wood, tanalised or pressure treated sleepers. Bear in mind what you would like to do with the sleepers, for example if you want to paint, varnish or stain them, ensure that you use a wood preserver that does not contain wax or silicon. Apply any wood preservatives before you install the sleeper so you can paint all sides. If there are any sawn ends on the sleeper, add a thicker layer of the preservative. Once you have treated the wooden sleeper, it can then be treated with wood oils, stain, or exterior paint to enhance their appearance and provide further protection from the elements.
What are the best garden sleepers?
There are a number of options available for the best sleepers to use in your garden. Here are some of the most common used that are used:
Reclaimed sleepers- This is a great choice if you are looking to add a rustic look to your garden. These sleepers provide a worn-in appearance. They can be unsuitable for children's play areas or anywhere that they may come into contact with skin because they have often been treated with chemicals.
New European Oak sleepers- These are a good choice if you want value for money. If you have a modern garden, they can provide a very neat appearance.
Treated softwood sleepers- As they have been treated, these will last much longer than untreated softwood sleepers.
Can you lay garden sleepers on soil?
Yes you can lay garden sleepers on soil. There won't necessarily be a need for foundations if you are only creating a structure that is one or two sleepers in height. To prevent the sleepers from soaking up the water from the soil, it is always suggested to use some kind of waterproof membrane.
If you don't want the hassle of laying concrete foundations for your garden sleepers, have in mind to use a material that will allow the water to drain away. This is because sometimes water pooling can occur around the sides of the sleepers and this can cause the sleeper to rot much faster. Gravel or sand are both great materials that will allow the water to drain away and allow your sleepers to last longer.
Forward Builders Supplies Limited
We hope this blog has helped you have a better understanding of garden sleepers. Here at Forward Builders, we have over 40 years of experience in the gardening industry and offer a huge choice of products to both homeowners and leading brands. We offer FREE delivery for local orders, with no minimum spend. To get in touch, please contact us via our online chat, complete our online contact form or call us on 033 0055 2500.