How To Enjoy Your Garden During The Winter
We've put together a list of hints and tips you can use to get your garden ready for winter, as well some ideas on how you get the most out of your time out there. Who says you have to spend winter indoors?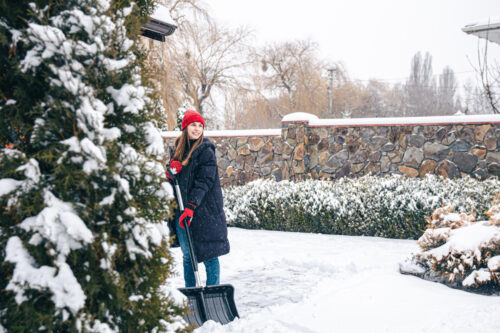 The temperature has dropped, the nights are drawing in, and the winds of winter are truly on their way. For many, this is a time to wrap up cosy by the fireplace, and say goodbye to the outdoors for a few months when it begins to warm up again. But, if you are reading this, chances are that you're looking to spend some time in the garden this winter, regardless of how chilly it might be.
We're here to tell you that you are not alone. In fact, those people who enjoy spending time outdoors, or have invested a lot of time, energy, and money into their garden, are always looking for ways to spend more time outdoors. We're also here to tell you that your garden does not have to be a seasonal enjoyment; it doesn't need to shut up shop every winter.
With that in mind, we've put together a list of ways you can enjoy your garden this winter. We'll look at the different options you have in setting up your garden for the winter months, as well as give you some ideas as to the kind of things you can do in the garden, as sunbathing is likely off the cards for a little while!
Setting Up Your Garden For Winter
In the summertime, when it's lovely and sunny for weeks on end, enjoying your garden is simple. All you need to do is grab a book, maybe a speaker, open up your back doors and then kick back and relax.
However, to properly enjoy your garden during winter, you will need to do a bit of extra planning. If you don't, it's likely that you will be forced to retreat indoors fairly quickly feeling cold, wet, and miserable. You could even get poorly, which is the last thing anybody wants - especially around Christmas time.
Put Up Shelter
We're accustomed to rain here in the UK, but that doesn't mean we enjoy sitting out in a downpour. There's likely to be long periods of rain during autumn and winter, so it's important that you've got the right kit to keep you dry.
There are plenty of temporary shelters available on the market that are fairly easy to put up yourself. A relatively cheap option - if you've got the space and environment to properly fit and tie it down - is a gazebo or awning. Another bonus of these is that they can be conveniently packed away when the weather brightens up. Just make sure it is installed properly so it doesn't blow away at the risk of damaging yours or a neighbours property, or worse, giving somebody an injury.
Perhaps, though, you'd like a more permanent addition to your garden. A perk of building an outdoor shelter in your garden is the ability to enjoy it all year round. However, seeing as we're talking about ways to enjoy your garden during the winter, let's stay on topic. 
In winter, an outdoor shelter could be transformed into your own winter wonderland, a place where you can invite friends and family, and even have some amazing winter barbecues. 
Whether you are hiring a professional to build your winter shelter or constructing it yourself, make sure you take a look at our range of high quality timber and other building materials.
Turn On The Heat
One of the best things about living in the 21st century is that you don't need to stay inside to keep warm. Patio heaters are truly revolutionary pieces of technology, with modern models capable of pumping out some serious heat.
There are plenty of options available on the market. For example, you can choose whether or not you want your heater to be powered by electricity or gas. There are even solar powered products available for those wary of their carbon footprint. 
The flexibility doesn't stop there - whether you want a large, free standing patio heater or smaller products that can be mounted to walls or other vertical spaces, there are an array of choices on the market to suit all needs, tastes, and budgets. 
Another product we are seeing pop up all over the place lately is the kerosene heater. These heaters are environmentally friendly and don't let off much, if any, smoke or odour, making them perfect for huddling around both inside and outside. Just make sure you are operating your kerosene heater safely if you choose this route. 
Transform Your Conservatory 
Okay so we're cheating a little bit with this one… but hear us out! While a conservatory isn't technically part of your garden, you can use this space as both an extension of your home as well as an extension of your garden. 
Why not decorate your conservatory with some seasonal plants and decorations, make use of some of the heating measures we covered earlier in the article, and throw open your doors to enjoy some fresh air? This way, you'll be able to enjoy the sights, smells and sounds of your winter garden from the comfort of your own home!
Ways To Enjoy Your Garden During The Winter
Okay, so you've got your shelter up and heaters at the ready, but what are you going to do to pass the time? The obvious answers, such as having friends over for a drink or enjoying some peace and quiet with a book can be done all year round, so instead, let's focus on ways to enjoy the garden that can only really be done in the winter months.
Help The Wildlife
Sure, attracting wildlife with food is possible all year round, but it's especially important to do this during winter. For many animals, it could literally be the difference between life and death. 
Birds will be more likely to visit your garden during winter as they may struggle to get adequate food from hunting and scavenging during this time. Make sure your bird feeds are stocked up and in return you might be surprised by the variety of flying friends that pay you a visit.
Hedgehogs have an especially difficult time during winter. Did you know that around half of newly born hedgehogs don't make it through their first winter? You can help by crafting them a little shelter with a few basic tools, leaves, soil, and newspaper. By doing this, it's likely that you'll come outside one morning to find that you've adopted a few hedgehogs for the winter!
Dig Out The Camera 
While snow isn't always a guarantee during winter, if it does snow, why not use it as an opportunity to get a little creative? If you're reading this article, chances are that you've spent a lot of time making your garden look great, and it could be a wasted opportunity not to get a few snaps of it in the snow.
Even if it doesn't snow, winter can still be a beautiful time of year, whether you're capturing a winter sun shining through the trees, or the sparkling morning frost glistening on the leaves of the trees or the grass. 
Most smart-phones have a state-of-the-art camera built in now, so you don't even need to invest in an expensive camera. Most phones give you the flexibility to add filters and effects at will, which can really help you garden pop and make it that extra bit more magical.
Did Somebody Say Christmas Dinner?
We're sure all of our readers are accustomed to the odd summer barbeque or two (or three…), but how about eating Christmas dinner outside? Of course, we're not advising you to cook the turkey on the barbeque, but a change of scenery while you eat could go a long way in making Christmas time feel more special. 
Bring the table outside, put on those heaters, and light some scented candles to really enjoy a different kind of Christmas dinner. If you're considering hosting friends and family for Christmas (or any other occasion), then be sure to take a look at our large range of garden furniture.
Get On Top Of Your Gardening Tasks
It's unlikely that you will be growing much during the winter months (although these vegetables can be grown in the winter months for those who fancy it), so you can use this downtime to get ready for the season ahead.
Use this time to compost your soil to ensure the following years' grows have the best chance of developing properly. Cover up and allotments or beds that you won't be tending to during the winter to protect them through the months of hard weather.
This might also be the time to sort out your tool shed, arrange your seeds and bulbs for the following year, and complete any maintenance tasks that you might have overlooked during the hot season.
If you're considering growing some vegetables in spring, make sure you check out our comprehensive guide to growing vegetables in your garden!
Stuff You Can Do With The Kids
There is no reason to stay cooped up inside with the children - there are plenty of garden activities to enjoy during the winter months:
Firework display - with the nights being so much longer now, consider grabbing a few fireworks and sparklers and have your own little fireworks display. You could even build a little fire if you have the space to do it!
Advent hunt - Everybody loves chocolate, but why not do away with advent calendars this year and do something a little more exciting. Instead of having the kids open a cheap cardboard window to retrieve their chocolate, why not send them on a hunt around the garden? You could even swap the treats around a little bit, and add an extra layer of surprise.
Build a snowman - This one is obvious, but in a world of Playstations and TV, it seems the more traditional ways of celebrating the winter season have become a thing of the past. 
Observe animal tracks - If you've taken the time to fill your garden with vegetation, chances are your garden will be visited several times during the winter. If you're not lucky enough to spot them there and then, why not see if you and the kids can identify the animals by the tracks they've left in the snow?
Forward Builders Supplies 
We hope that you enjoyed the article today, and perhaps you've now got the confidence or inspiration to make the most of your garden this winter. We truly believe that gardens should be there for us whenever we need them, and we don't think that they should only be enjoyed in those conventional summer months.
Make sure you check out the rest of our blog for more garden related content and tips.