Low maintenance garden ideas for busy homeowners
We all dream of having a beautiful garden, but time can often be an issue. However, having a wonderful garden doesn't need to be time-consuming or break the bank.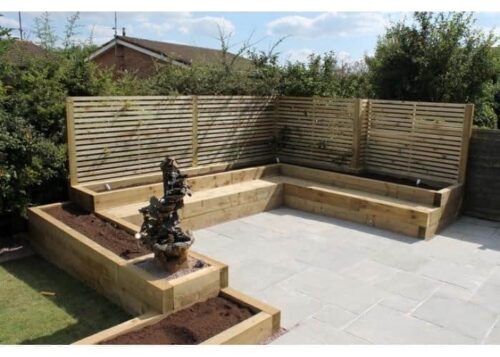 Low maintenance garden ideas for busy homeowners
A lot of us don't have anywhere near the amount of time we'd like to spend in our garden. If you work all week, perhaps you'll have time in the evenings while it's still light or at the weekend. Then again, if you have kids, maybe not. The fact of the matter is that many of us are busy bees, and we wouldn't blame you for thinking you can't have a fantastic garden when you have so many other things to juggle.
Well, think again! It's very possible to have a garden that you're proud of and want to show off without needing to constantly worry about garden maintenance. By making use of low maintenance landscaping materials, you're able to create unique, relaxing, and impressive outdoor spaces with little ongoing work required.
Artificial Grass
One of the best things about artificial grass is its versatility. With artificial grass, you can create space for an array of different purposes, whether that be as a foundation for a kid's playground, somewhere to let your pets explore, or as a lawn to host guests or relax on after a long day. For commercial settings (or even unique residential settings), artificial grass can also be used on rooftop balconies, schools and nurseries, sports pitches and much more. Artificial grass is particularly suitable for urban environments, or indoor spaces where natural lawn just isn't practical.
We've featured two examples of artificial grass being well utilised below. The first is as part of a family garden, providing a safe, hassle-free base for a climbing frame, football nets, and trampoline. The second is being used as a simple but effective low-maintenance lawn that is inviting, clean, neat and tidy. How many times have you been wary of inviting guests over due to having a messy garden? You can eliminate that worry by using artificial grass!
Why Artificial Grass Is Low Maintenance
Although artificial grass is an ideal low maintenance alternative to natural grass, it's important to remember that it'll need some maintenance, but nowhere near as much as its natural counterpart. There's absolutely no need to worry about watering, cutting, or reseeding artificial grass, and you won't have to contend with pets or little ones trampling mud across your patio or inside your house!
To keep your artificial grass looking great, simply sweep relatively often, and make sure no debris sits on there for too long. For more tips on how to look after your artificial grass, be sure to check out this guide.
Paving
Having paving installed is the perfect choice for those who want a low maintenance patio area for gatherings or relaxation. There are many different types of paving to look at, including natural stone paving, block paving, concrete paving, and porcelain paving. For those keen on low maintenance paving, we'd recommend some natural paving such as limestone, sandstone, granite, or slate. Granite in particular is incredibly durable and will retain its sheen for a long time without too much TLC. Alternatively, porcelain paving is famously low maintenance due to it being so easy to look after, although is only suitable for those with bigger budgets.
We've featured some of our favourite examples of paving below. The first features a combination of black limestone, white chippings, artificial grass and low maintenance shrubbery which combines to make an ultra-modern garden that takes very little effort to keep looking great. The second is something a little different; thatch porcelain paving that offers a refreshing mix of both traditional and contemporary styles. Perfect for older properties, listed buildings, or those who simply want to incorporate a little more old-fashioned style into their landscaping design.
Why Paving Is Low Maintenance
Some types of paving will be lower maintenance than others, but none of them will require as much time as a lawn. Porcelain paving in particular does not need much attention, it's as simple as hosing it down and then sweeping off any debris with a stiff brush. You'll probably find yourself cleaning it more often as a result because it takes such little effort to keep it looking as good as new.
Composite Decking
In the past composite decking was a relatively controversial choice as people much-prefered decking that looked authentic. However, composite decking has come a long way in the last decade or so, and you can now buy boards that truly rival their wooden counterparts, and in many cases, offer significant advantages. As well as being low maintenance, composite decking will generally last a lot longer than wooden decking, with some composite decking lasting for up to 20 years with the right love and care. Furthermore, composite decking is much more flexible, with a wide variety of colours and textures available that result in an authentic yet unique look. Take a look at this Enhanced Grain Smoked Oak composite decking from Millboard, which helps to create a clean, modern, and natural outdoor space for you and your friends to enjoy.
Why Composite Decking Is Low Maintenance
Unlike traditional timber boards, composite decking is made up of a mixture of wood and plastic fibres, which leads to a more resistant and more durable product. While timber decking can certainly be well looked after, it does take a lot of effort. On the other hand, composite decking does not need anywhere near the same amount of attention; a simple brush and scrub semi-frequently will reduce the chance that you'll need to give it a serious deep clean. Likewise, ensuring no water or debris gets between the gaps is important for the longevity of your composite decking, as dampness between the boards can cause them to rot from the inside. As long as you spend half an hour every now and then checking between the boards and giving it a sweep, you'll rarely have to worry about maintaining your composite decking.
Decorative Aggregates
'Decorative Aggregates' is basically an umbrella term for stone that has been sorted, graded, or shaped into smaller pieces. There are many different types of decorative aggregates, such as gravel, chippings, cobbles, and pebbles, all with their different uses. With decorative aggregates, you can lay pathways in your garden, create borders to your lawn, use them as a base for ponds, feature them in landscaping designs, use them for driveways and much, much more.
Perhaps the best thing about decorative aggregates (other than them being low maintenance, of course!) is the almost limitless variety of shapes, materials, colours, and styles they can be found in. They're also budget-friendly and in many cases you will be able to lay them without needing to hire a professional.
The first example shows how a garden can use decorative aggregates as the primary component to great effect. We particularly like the use of them in the raised beds, and this creates a unique base for plant life. Look closely and you can also see that the landscaper has used boulders to help add variety into the mix. The second is an ultra-modern mix of white and plum chippings, garden ornaments, paving stones and sensible use of plants. A stylish, impressive garden that takes very little work to keep looking great!
Why Decorative Aggregates Are Low Maintenance
No matter what type of decorative aggregate you use, whether that be gravel, chippings, cobbles, or pebbles, you are guaranteed to spend little time maintaining them. By using a weed membrane beneath your layer of stone, you'll prevent weeds from sprouting through giving you one less thing to worry about. Weed membrane can last between 15 and 30 years depending on the material, so it's safe to say that you'll be able to enjoy a maintenance-free garden for years to come. You might want to resurface or rearrange your gravel and chippings every now and then – especially if it gets displaced due to pets or bad weather – but day-to-day maintenance is practically non-existent.
Forward Builders Supplies
We hope we've provided you with some inspiration to prove that having a great looking garden doesn't need to swallow up your time. Here at Forward Builders, we respect our customer's time, which is why we've made ordering from us as quick and straightforward as possible. All goods can be ordered online via our website, with many orders eligible for free delivery depending on your postcode. You're also more than welcome to come to our site in Ellesmere Port to view our display. For all questions regarding our products, service, or site, please contact the team on 033 0055 2500.