Decorative Natural Stone Paving
When it comes to choosing a paving stone for your patio, pathway or driveway then it's hard to know which style is best, especially with the many options we offer. Let us help you get started.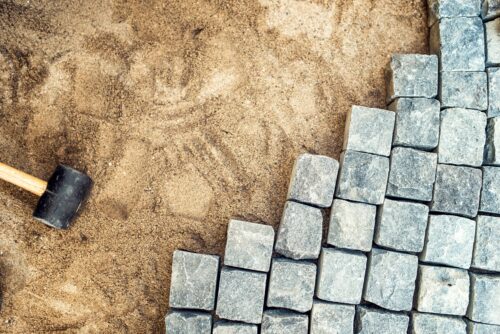 Decorative Natural Stone Paving
Forward Builders are a recognised supplier of high-quality natural paving products to landscape gardeners, builders and individuals taking on a DIY project.
And, as well as the stone paving itself, we have everything you need to make sure your project runs smoothly. Oh, and don't forget we can deliver everything to site for you.
A wide range of creative natural paving
When it comes to choosing a paving stone for your patio, pathway or driveway then it's hard to beat the warm undertones of a natural stone.
But things have changed, so whilst you can still play it safe with a beautiful Old Rectory York paving stone, you also have the choice of some really creative options such as our wood effect range. Out outdoor paving range includes:
Wood effect
Porcelain Tile
Granite
Limestone
York
Sandstone
Wood effect range of outdoor paving
This type of paving is really catching on and offers the garden an unusual and creative twist.
Our premium Albero range offers an incredibly realistic wood effect complete with knots, grain and gives a really interesting look to the garden.
They also have the added benefit of being non-slip and of course, being made of high-grade porcelain, they won't rot!
If you're after that indoor/outdoor look, then wood effect paving could be the answer and you can choose from the silvered and grey tones of the Silver Range (mimicking the weathered look of Birch of Cedar) to the warm golden tones of our Porcelain Oak or Maple.
Porcelain Tile outdoor paving
We love this range and it's perfect for that indoor/outdoor look you see on the television where the patio is on the same level as the kitchen floor.
Then sliding doors open to let you walk straight out on to a continuous outdoor area of the same material.
Our porcelain tile outdoor paving range is full of absolutely stunning options that not only compliment the indoor space but really enhance the outdoor area making it chic and contemporary.
For example, the Toscana Porcelain Latte is a beautiful light cream tile that gives off a bright and airy look. Not only will it look great as part of the kitchen, but it will really lighten up the garden.
Also bang on trend is the Toscana Porcelain Smoke which adds drama to any area and compliments and contrasts the garden greenery.
Sandstone, Limestone, York and Granite Paving
Of course, whilst it's nice to follow the trends and use new materials, you can't ignore the wonderful looking traditional stone which makes any garden look fantastic.
Our range of more traditional paving remains a timeless choice for customers and whether you're looking for a warm Rectory Cobble Paving look or a contrasting modern Smooth Natural Sandstone Silver Grey your garden will look characterful and cared for.
Forward Builders is the professional's choice
We are the choice sandstone flags supplier to many builders, landscape contractors and local authorities in the Ellesmere Port, Chester, Warrington and Liverpool areas but we also deliver nationwide.
This also means if you are embarking on a DIY project, you'll be using the same high quality paving and materials trusted by the pros.
We recognise that each customer will have specific needs and that each garden or outside space is unique, so all Forward products are carefully selected and sourced from a range of leading manufacturers including Global Stone, Bowland Stone, Bradstone, Talasey, Plasmor, Marshalls and KelKay.
As a result, we have worked hard to offer individual landscaping solutions for all budgets and tastes, from contemporary new builds to country cottages.
Get in touch with us today for any assistance on quantities or options. Call the Forward team on 033 00 55 2500 now.