Our Guide To Decorative Aggregates - Types, Uses, and More
Looking to start your next DIY project? Using decorative aggregates as the foundation of your landscaping vision can be incredibly rewarding. Find out more in our latest blog.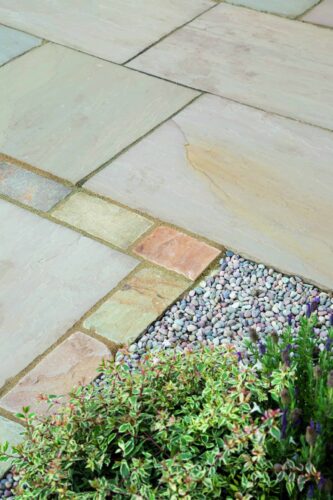 Here at Forward Builders, decorative aggregates are kind of our thing. As they're one of our most popular products, we thought it might be a good idea to put together a guide for our readers who are interested in using them. 
In this guide we'll cover:
What decorative aggregates are

The different types available

Popular uses of decorative aggregates

A basic guide of how to lay them
So, whether you are already an experienced gardener or are interested in starting your first DIY project, we hope that you will find some useful information in our guide to decorative aggregates.
What Are Decorative Aggregates?
Decorative Aggregates are small pieces of stone, commonly known as gravel, chipping or pebbles, that are specially designed for the purpose of landscaping. They are a great way of making your garden, driveway, or other outdoor space catch the eye while looking professional and unique. 
With lots of different shades, shapes, sizes, and colours available on the market decorative aggregates allow you to truly show off your style and vision, and in a lot of instances, they can be used to good effect without the need to hire a professional.
Once decorative aggregates are placed, they take very little effort to maintain. This along with their flexibility means they are incredibly popular landscaping material, as not all of us have the luxury of being able to spend as much time as we'd like in the garden. Furthermore, it cuts down on the aspects of gardening we could do without, such as weeding and mowing the lawn.
What Types Of Decorative Aggregates Are There?
Stone Chippings - These are generally the smallest type of decorative aggregate available, although it is possible to get larger chippings. Also referred to as gravel, these versatile stones are a cost-effective way of offering a unique flourish to your project. They can range anywhere from 8mm to 20mm in size, and can come in both rounded and more angular forms which allows for a variety of uses. We stock a large variety of stone chippings, with some customer favourites including white polar chippings, flamingo gravel, and black ice gravel.
Slate Chippings - Often used as an alternative to stone chippings for a more natural and authentic finish. Slate chippings are small, usually angular pieces of slate perfect for those who are looking for a subtler addition to their projects. Our range of slate chippings is vast, with options ranging from plum slate to green slate, and plenty inbetween!
Cobbles - Probably the largest type of decorative aggregate, these are large, round shapes of sizes between 50mm and 150mm. Reminiscent of the seaside, cobbles have a wide variety of uses such as lining the perimeters of flowerbeds, paths, or ponds. We have many varieties of cobbles for sale, including Scottish Cobbles and Rainbow Cobbles. 
Pebbles - These can be considered as the 'children' of cobbles; they are very similar in shape but generally much smaller. Due to their rounded edge, they can be safer to use than chippings and gravels, especially if young children or four-legged friends pay regular visits to your garden. While cobbles are more ornamental in appearance, pebbles can offer a similar function to chippings and gravels.
What Are The Uses of Decorative Aggregates?
As we mentioned earlier in the article, decorative aggregates are so popular due to their flexibility of use. We have outlined some of the most widespread uses of decorative aggregates below:
Driveways - Small chippings can be an incredibly cost-effective solution to covering your driveway in a way that is both practical and pleasing to the eye. To ensure a smooth and even finish, and to avoid damage to your vehicles, smaller chippings on a solid base should be used. Larger or angular chippings could be problematic! You can check out our full and in-depth guide to laying a gravel driveway here.
Ponds - Ponds can often be a dazzling addition to your garden, and why not make them even more awe-inspiring with a decorative base? If not, then they can be used to lay a natural looking walkway around the pond, or one leading up to it. If you wish to use decorative aggregates in the water, make sure you check that they do not pose a risk to life. 
Paths - Decorative aggregates can be used to create unique garden paths for a predetermined route through your garden. Paths are a great way to signpost and organise your garden, and you can ensure your visitors see exactly what you want them to see. Using paths creatively is a great way to make traversing your garden a journey worth remembering.
Weed Control - Often a gardener's worst nightmare, weeds can be a pain to keep on top of. However, using decorative aggregates over weed control fabric can give you both a great looking garden and less weeding to worry about. If you wish to have plants growing within your chippings, simply cut holes in the fabric where you want the vegetation to grow, allowing plenty of room for the plants to thrive and flourish.
Reduce chances of flooding - Flooding can be a real pain, especially in Britain! Not only does it make your garden unusable, it also can be expensive to drain and could even damage your property. Using flagstones or concrete can make your garden or driveway susceptible to flooding as there is nowhere for the water to go. However, the space between pebbles and chippings allows water to pass through into the ground with ease, massively reducing the chance of outdoor spaces being waterlogged.
Of course, there are many more exciting and creative ways to use decorative aggregates around the home. If you have used them in a way that has made you proud, let us know over on Facebook or Instagram.
How To Lay Decorative Aggregates
With some time and a bit of hard work, it's totally possible to create a professional looking finish without hiring somebody to do the work. For full guidance on tools and techniques, please see our dedicated guide on laying a driveway (which can be adapted to the garden, of course), but if you would like a brief overview of the steps you will need to take, please continue reading here!
Please note - this is a guide for generic projects. If you have more specific requirements for your project, research is key!
Step 1 - Plan Your Project
Perfection takes planning. When you've decided on your project, you'll then need to choose what type of decorative aggregate you'll be using. Whether you are using chippings, slate, pebbles, or something else, you will need to ensure that you're using a suitable type for your project. 
When that decision is taken care of, it will be time to mark out your project. We recommend using string or wire to make your markings, but anything long and flexible will do the trick! Taking the time to properly plan out your project will prevent issues cropping up further down the line.
Step 2 - Get Digging
The second step is perhaps the most important to get right! If you take the time to thoroughly prepare the area you will be laying with decorative aggregates, the rest of the work should not be much of an issue. 
A trench is important because it will keep the aggregates secure. If an area is going to be purely decorative, you might only need to level the ground, but in most instances, we recommend digging a trench. 
To begin with, you will want to dig a trench to lay the foundation for your aggregates. We generally advise that the trench should be between 100mm and 150mm, depending on the project. The walls and floor of the trench should be as straight as possible to ensure stability - use a rake to achieve this if necessary. 
Remember to hire a skip to dispose of any existing materials that you don't see yourself reusing. 
Step 3 - Line The Trench / Levelled Ground
There are two parts to this step. Firstly, you'll want to lay the bottom of the trench with about 2cm of crushed stone. This provides some stability to the area, as laying your aggregates on soft ground could cause you to lose stones which can ruin your landscape further down the line. It's vital that this layer of crushed stone is even and compact - enough so no aggregates can escape. 
Then you will want to lay some Weed Control Membrane over the crushed stone. As the name suggests, this protective layer stops weeds from penetrating the ground and ruining your handiwork. Cut your fabric to size, and be sure to leave some holes if you are going to be planting beneath the aggregates. 
Step 4 - Lay Your Stone
The moment you have been waiting for! This is the most rewarding (and probably the easiest!) part of the project, where you get to pour on your stone. There is no real technique to this - simply get stuck in! 
When the stone is in place, take some time to even it out and make it level. Give it a hosedown to remove dust and dirt and then give yourself a pat on the back.
Forward Builders' Supplies
At Forward Builders, we've been supplying the highest quality landscaping materials for many years. We have everything you need to get started on your landscaping projects, including an enormous range of decorative aggregates, building materials, cement and sands, and much, much more. 
With competitive pricing, outstanding service, and nationwide delivery available, there is a reason why Forward Builders' Supplies have become one of the most reputable builder's merchants in the UK. For more information about our products and delivery service, please do not hesitate to give us a call on 033 0055 2500.