Porcelain Paving: Pros and cons
Porcelain paving has become an increasingly popular choice for homeowners across the UK looking for the right material to use in their indoor and landscaping projects. Find out more about porcelain paving pros and cons in our latest post!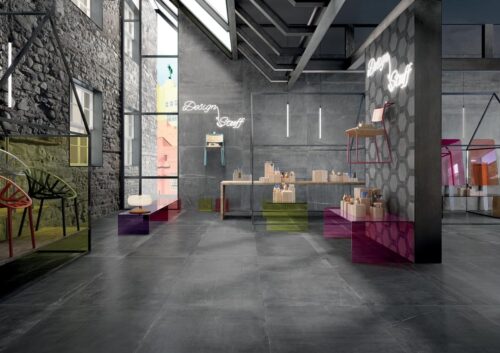 Porcelain paving has become an increasingly popular choice for homeowners across the UK looking for the right material to use in their indoor and landscaping projects.
With its contemporary look and superior engineering, it has quickly become the paving of choice ahead of traditional alternatives like concrete or natural stone.
If you are considering porcelain paving for your next project, then keep reading because in this article we will share everything you need to know.
Is porcelain paving a good idea?
When it comes to outdoor paving, most of our customers are looking for a product that looks good, will stand the test of time, and require minimal looking after, which is why we always recommend porcelain.
Porcelain paving appears to tick all the boxes, but how can tell if it is the right choice for your project?
Here we detail all the pros and cons, highlighting potential problems and recognising the product's many benefits.
Pros of porcelain paving
It isn't difficult to see why porcelain paving has remained the material of choice for UK homeowners, with it being one of the most durable and hard-wearing tile options on the market.
It is uniquely manufactured to have an absorption rate of less than 0.5 per cent, meaning these tiles are resistant to stains and will prevent unwanted moss and algae growth. You can rest assured your tiles will never expand and contract, bend or warp over time.
With an impressive R11 rating, porcelain paving is designed to provide a safe, anti-slip surface even when wet. These tiles have been designed with people in mind, and consider how they will be used within the home and in landscaping projects. As a result, they are UV, scratch and basically, life-resistant, making them the ideal investment for any homeowner.
Porcelain is incredibly easy to keep clean and will effectively look after itself while maintaining its clean-cut, contemporary aesthetic over time. Other paving options are likely to require regular jet washing to stay clean, but porcelain only needs an occasional rinse with a garden hose.
Finally, we can't talk about the pros of porcelain paving without mentioning its aesthetic appeal. Modern porcelain manufacturing makes these stunning tiles almost impossible to differentiate from the raw material. They are available in a wide range of colours and textures to fit perfectly into any design.
When it comes to paving projects, porcelain is a winner every time, and you'll be hard-pressed to find another material on the market that will provide the same benefits.
Cons of porcelain paving
While there are countless benefits to porcelain paving, there are some potential drawbacks that are worth considering.
Arguably the most notable con of porcelain is the cost if you are looking to keep within a tight budget. When compared to the likes of concrete, porcelain is more expensive, but often it is seen as a long-term investment due to its durable nature.
Not only that, you may find that the installation costs of porcelain are higher than other cheaper paving options. It is important these tiles are installed correctly to ensure their longevity, which in most cases means using a porcelain tile specialist. Any repairs from improper installation may end up being very costly.
On top of potential price concerns, if you are in a rare position where your porcelain paving is damaged, you will have to replace the entire paving slab, which can end up being expensive.
Another key consideration is what type of paving you are looking for.
While modern engineering has allowed porcelain to look better than ever, we find some customers want something 'all natural'. The real feel of natural stone is something that, for some, can't be beaten, and despite all the benefits of porcelain, it is an artificial product.
Finally, when it comes to installation, another problem you may encounter is, ironically, how tough porcelain actually is. The durability of the material is great once installed, but it also means it's much harder to cut than with other paving stone options.
You will need a diamond-encrusted blade and the appropriate tile-cutting equipment to successfully cut through your tile without cracking.
Often this can bring DIY projects to a halt because you might need to call on the expertise of a specialist to carry out the job correctly.
Are porcelain patios worth it?
We certainly think so! Despite listing both pros and cons of porcelain paving, we feel that the benefits of using porcelain paving for any project far outweigh any potential drawbacks.
If you are interested in porcelain paving but would like to get a feel for these gorgeous tiles in person, you can order a sample from our online collection, or why not pay us a visit at our site in Ellesmere Port?
With more than 30 years of experience, we are proud to be a recognised supplier of high-quality paving slabs and stock a wide range of porcelain paving in a selection of colours and textures.
Our team is more than happy to show you our porcelain ranges, and assist you in finding the perfect fit for your project.
If you have any questions about our Porcelain Paving Tiles, don't hesitate to get in touch with our Forward Builders' Supplies team on 033 0055 2500, or you can send us a message on our Instant Chat located in the bottom right-hand corner of our website.