Preparing Your Garden for Artificial Grass
Artificial grass has many benefits making it a great addition to your garden. Preparing your garden for artificial grass is a simple process but it is essential that you do it correctly. In our latest post we will talk you through each step of preparing your garden for artificial turf.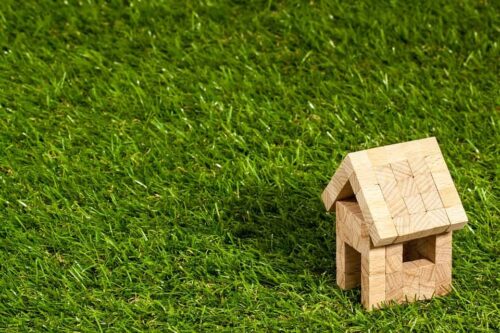 Artificial grass has become a very popular alternative for homeowners as manufacturers continue to create grass that feels and looks like the real thing. Our previous blog on artificial grass discussed some of the many benefits of adding artificial to outdoor areas, if you haven't read it yet, go take a look!
With the many benefits of artificial grass, its increasing popularity comes as no surprise. However, one factor putting people off artificial grass is the installation process. Many people believe it to be costly, difficult and complicated but this is not the case! We are here to bust this misconception with an easy guide on how to prepare your garden for artificial grass installation.
How to prepare your garden for artificial grass:
1. Removal of existing natural grass
If you currently have any lawn in your garden, the first step in preparing your garden for artificial grass is to remove the existing turf. Whilst this may seem obvious, this is often a commonly overlooked step. It is a common mistake to assume that artificial grass can be layered over natural grass. Whilst decomposition will happen due to little water and sunlight, the decomposition will not be uniform. This will mean that the artificial lawn can look bumpy and uneven.
The existing top layer of turf needs to be completely removed and ensure you dig as deep as possible to remove all plant matter. Dig deep, grass roots can go deeper than you think! You can use a range of tools for this but usually a spade and a turf cutter will do the job. It is important to ensure that there is a smooth, measured area dug into the ground where you want to install the new artificial grass.
2. Eliminate weeds
Anyone with a garden or a driveway will know too well that weeds are an extremely annoying and persistent problem if not dealt with correctly. Weeds have the ability to grow in the slightest of gaps between slabs or bricks. They are unsightly and make the whole outdoor area look unattractive and untended. So before laying new artificial turf, you need to ensure that it is protected from those pesky weeds and other plants that could grow underneath it.
Your new artificial grass will allow drainage, which means the ground underneath will not be completely dehydrated. Whilst this is great for the environment and ecosystem, it is not ideal for weed control. To slow down, if not entirely stop unwanted weeds, a specifically designed membrane can be laid. A weed control fabric can be installed underneath your new artificial turf to help keep those annoying weeds away!
If you fail to add a protective layer between the ground and the artificial grass, weeds could grow up through the turf, leaving it disfigured or buckled. This will be a lot harder to deal with after the artificial turf has been laid.
3. Levelling out
The ground that you will be laying your artificial turf needs to be as smooth, level and even as possible. This includes making sure there are no stones, lumps or bumps on the ground. This is vitally important in ensuring that your artificial lawn will look even and smooth in the future. If these are not levelled out before the turf is laid, it will be much more difficult to resolve. This type of preparatory work will mean that the setting of the artificial turf will be easier but will also help with drainage. Ensuring that the ground is level when the turf is laid will make a huge difference in the appearance of your lawn.
4. Sub-base
Once you have levelled out the soil, a thin layer of crushed stone aggregate such as MOT Type 1 should be applied over the weed suppressing membrane. The recommended layer for a solid base with a good drainage system is a 25mm layer of aggregate. As we have mentioned, artificial turf allows drainage so it is important that you have an effective base that allows this. This is another vital part in keeping your lawn looking its best all year round.
Compacting the stone aggregate will provide your artificial grass with a solid base, creating a sturdy and well-draining surface. Then, apply a 1-cm layer of sharp sand and again ensure that it is compacted and smoothed to ensure an even surface. At this point, there is the option to lay a shock-absorbent material to provide more cushioning underneath the grass.
5. Installation
After everything has been smooth out, the remaining step is the installation of your new artificial lawn. Your new artificial grass should be cut to the right size and aligned correctly on the ground. Your new lawn is ready once the corners have been nailed down!
The process of preparing your garden for artificial grass seems pretty straightforward but it is essential to get it right. If you follow the steps, your new garden will remain aesthetically appealing for a long period of time. The process is the same for all types of artificial grass. Forward Builders Supplies stock a range of different brands of artificial grass including Quest, Wisdom and Fantasia.
Forward Builders Supplies Limited
Forward Builders Supplies are a leading supplier of landscaping supplies across the North West and beyond. We have a fantastic range of artificial grass in stock ranging in styles and budgets to meet your landscaping needs. Here at Forward, we combine great products, outstanding customer service and unbeatable prices. We also offer free delivery to all areas in the local area, even on the smallest of orders! If you have any questions, please get in contact with our team on 033 0055 2500. Alternatively, complete our online contact form and we will be in touch as soon as possible.