The Benefits of Artificial Grass
If you are thinking about adding artificial grass to your garden, here are the many benefits to help convince you!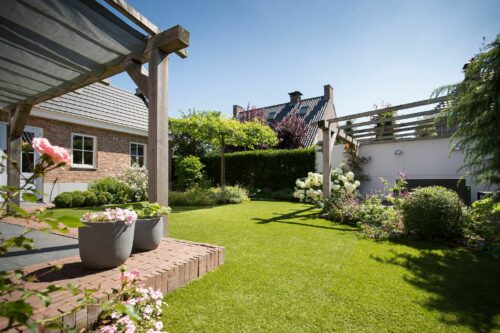 More and more homeowners in the UK are beginning to opt for a more low maintenance option when it comes to their garden or outdoors spaces. With the UK weather being so unpredictable and extreme weather conditions becoming a more regular occurrence, it has prompted more garden lovers to look for more robust alternatives. Artificial grass has so many benefits over natural grass that it is becoming a popular choice for homeowners. Quality, realistic artificial grass keeps your lawn or outdoor space looking crisp, neat and green through all weather conditions. This is just one of the reasons as to why so many people chose to have artificial grass over natural grass. Let's discuss the other benefits:
No Maintenance
One of the biggest benefits of artificial grass is the minimal maintenance it needs! Aside from the occasional sweep and rinse to remove any leaves or debris, artificial grass does not need anything to keep it looking crisp. Natural grass, on the other hand, takes lots of watering, fertilising and mowing to keep it looking tidy and more often than not, there will still be problem areas of the lawn. The minimal maintenance needed for artificial grass saves you money and time, both of which can be spent on enjoying your garden rather than having to take care of it.
No Grass Stains
We all know that grass and mud stains can be incredibly difficult to wash out. Artificial grass removes this struggle. You will not have to worry about your children's clothes being covered in mud and stains, they can play as hard as they want on artificial grass without the worry of unsightly stains on their clothes or shoes.
Aesthetically Pleasing
The appearance of artificial grass has vastly improved over the years and now many of the higher end surfaces have a very convincing natural appearance. The beauty of artificial grass is that it is not a living thing, so it doesn't need sunlight in order to grow. Sunlight in gardens is rarely ever consistent, this means that natural grass may fade and die in shaded areas where there are lower levels of sunlight. So in areas of little or no sunlight, the artificial grass will stay green all year round. This is also the case for areas of the garden with lots of sunlight. Artificial grass is UV stabilised, providing great protection against the sun meaning it will not fade or discolour. Artificial grass looks great and will continue to stay green, neat and tidy all year round with minimal effort.
Great for Recreational Areas
Artificial grass is very versatile and can be used for many different types of outdoor spaces. It is great for recreational areas such as courts, putting greens and patio surfaces. Artificial grass is very resistant to wear and tear which is why it makes it great for recreational use which will have a high volume of foot traffic. It is also very easy to cut and shape, meaning it can be used to fit into spaces that are oddly shaped or into a variety of patterns.
Environmentally Friendly
There are a range of reasons as to how artificial grass is better for the environment when compared to natural grass. For example, it reduces the need for lawn mowers. Lawn mowers are not efficient which means for something their size, they produce a lot of air pollution. Also, to maintain a natural grass lawn, harsh fertilisers and other chemicals are needed. This can be very dangerous for the local environment as runoff makes its way to streams, ponds, rivers and lakes causing an overgrowth of algae. An overgrowth of algae can make waterways impassable and when the algae die, the process removes oxygen from the water. These are known as "dead zones" as fish can't survive here so they die or move on.
Artificial grass can also be recycled and repurposed into other products at the end of its life, reducing landfill and waste.
No Puddling or Flooding
Before artificial grass is installed, the ground will be rolled and smoothed out. This eliminates any grooves or valleys in the ground where water can accumulate. To help drain excess water and to prevent pooling in low areas of the garden or outdoor space, small irrigation channels are put in place to allow the water to drain. This results in the grass being able to drain quickly preventing it getting waterlogged or flooded.
Safe for Children and Pets
Unlike natural grass, artificial grass does not need harmful pesticides, fertilisers and toxic chemicals for maintenance. Therefore, you can rest assured that when your children or pets are playing on the surface, they aren't being exposed to such substances. Also, many brands of artificial grass have antibacterial surfaces to help prevent the spread of germs and bacteria.
Artificial grass is also great for your pets, unlike natural grass, it can't be dug up and spoiled. So not only does it protect your lawn or outside space, but saves you the clean up job when those mucky paws make their way inside your home! The artificial grass is also unaffected by urine and any animal waste can be easily cleaned off with a light detergent and water.
Cost Effective
This is arguably the key benefit regarding artificial grass. Although it is an expensive investment at first, the benefits of artificial grass soon outweigh the initial cost. Artificial grass can improve the value of your home for many years and can save you lots of money that would be otherwise spent on maintenance of a natural lawn. If you take into consideration the cost and effort spent on trying to maintain a natural grass lawn, the initial cost of artificial grass will pay for itself within a few years. Artificial grass is very long lasting with a life expectancy of around 15 years through normal use. This is much higher than natural grass!
Forward Builders Supplies
Artificial grass is a low maintenance, environmentally friendly and aesthetically pleasing option for your garden or outdoor space. It will give you a green, neat and vibrant looking outdoor space that you can enjoy all year round, no matter the weather! We stock a wide range of artificial grass at Forward Builders Supplies. No matter the size of your project, we can provide you with the perfect materials. Get in touch with us on 033 0055 2500, or fill in our online contact form and we will be in touch as soon as we can.