Top Tips For Maintaining Your Timber Fence
Timber fences are the most popular in the UK. Let's look at their benefits, as well as how you can get the most out of your fencing!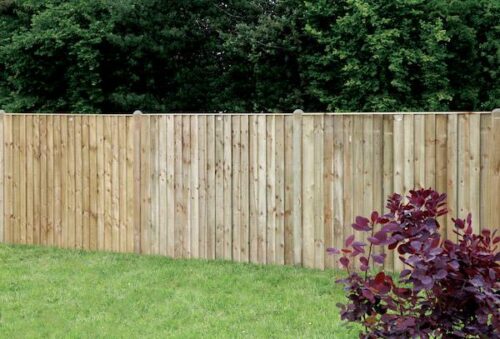 Timber remains one of the most popular choices for fencing across the UK. While the most obvious benefit of timber fencing is the privacy it offers, it can also help your garden to look clean and tidy, keep pets and children safe and contained, and reduce noise pollution from the road (or even some noisy neighbours!). 
The practical uses of timber fencing a clear, but high quality, well-maintained timber fencing in general is just appealing on the eye. Whether it's adorned with flowers or hanging baskets, painted in an eye-catching colour, or simply adding a natural atmosphere to the garden, timber fencing is popular for a reason. Let's take a closer look at the benefits of timber fencing, as well as some maintenance tips to help you keep it looking great.
Benefits of Timber Fences
Privacy
Perhaps the most obvious benefit, and the most important benefit for many, is the unrivalled levels of privacy a timber fence can offer to your garden. When you're spending time in the garden - whether that be alone or with friends and family - it's important to have the privacy you deserve. While we all like to chat with neighbours, sometimes we need that private time outdoors. Wooden panel fencing is the optimal choice for those seeking privacy. 
Safety
If you have pets or little ones living with you or frequently visiting, a well-maintained wooden fence can be vital in keeping them safe and secure. Unfortunately there are always people out there who would do us harm, and with dog kidnappings more prevalent than they've ever been, a tall, sturdy wooden fence can work as an excellent deterrent. Similarly, timber fencing can prevent children and pets from escaping from the garden, giving you peace of mind.
Customisation 
There is a lot of flexibility when it comes to choosing a wooden fence. Wood is easy to shape and customise, and as a result, there are a lot of unique and interesting choices on the market. It really comes down to what you want out of your fence; if privacy is important you'll likely want to look at panels, whereas if style is your thing then you might want to consider a trellis or picket fence. 
Installation 
Another great thing about wooden fencing is that in most cases, it's extremely quick and easy to install. If you hire a professional to install your fence, it could be up in as little a day if your garden isn't too big. Even for bigger gardens, it shouldn't take more than a few days to install a fence, so you won't have to worry about too much mess or stress as your fence gets built. Of course, terrain, weather, and other factors that impact the ground will play a part in how long it takes, but fence installation is well known for being pretty quick.
Budget Friendly
Although some wood fencing can be expensive, thankfully there are a lot of options available for those with even the smallest budgets. There are a wide range of fence types available, with lower budget options such as picket fences. Medium-tiered options include popular, conventional fencing panels and trellises, with higher end fencing including weaved and convexed options. Of course, prices will vary depending on the retailer, and we are very confident that you won't find better prices than here at Forward Builders!
Of course, if you hire a professional to install your fence that will come at an additional cost, but if you are providing the materials yourself, that won't be more than a few hundred pounds as it's not a time consuming job.
Top
Tips for Maintaining Your Timber Fence
 To get the most out of your timber fence, you will need to maintain it fairly regularly. Giving it a full clean every year or two will prolong the life of your fence significantly, and save you money as you won't need to replace too many panels. 
 When you set aside the time to work on your fence, it's important to get the right equipment together ahead of time. You won't need a lot, but for proper yearly maintenance it is recommended to have:
A power washer

A good quality

wood treatment

in your desired colour

Protective sheets for your grass, patio, plants, or other elements close to your fence

Something to apply the treatment, such as a brush or roller, or spray bottle

Bleach to clean the wood
 With your tools and materials at the ready, and your protective sheets in place, apply your bleach or other good quality cleaning solution to the fence and leave it for an hour or two. Once it's worked into the timber, use a power washer to remove the bleach. 
 Now that your fence is nice and clean, it's important to let it dry. Applying a treatment while it is still wet can cause the wood to degrade and you'll be trapping in all the moisture. Once it is fully dry, you can then apply the treatment to the whole fence, which will act as a shield against rain and other weathering conditions for at least a year. The likelihood is that you won't have to worry about treating it again for another few years.
 Now that the fence is taken care of, all that's left to do is grab a cuppa and admire your handiwork!
Forward Builders Supplies 
We hope this has given you a good overview of timber fencing and given you a bit of insight into how you can keep yours looking great. Here at Forward, we stock virtually everything you need to build a fantastic timber fence, such as panels, posts, gates, caps, finials, and much more. Whether you are a professional looking for cost-effective materials for your business or a homeowner interested in sourcing materials yourself, we offer a fantastic combination of high-quality timber, outstanding customer service, and reliable, lightning-fast delivery.
For more information about our timber or to ask any questions, don't hesitate to give us a call on 033 0055 2500.