Types of Paving: What Is Best For Me? Our Guide To Paving
If you're looking for new paving for your garden or driveway, there's a lot of choice out there. Let us take you through some of the options to help you decide what's best for you!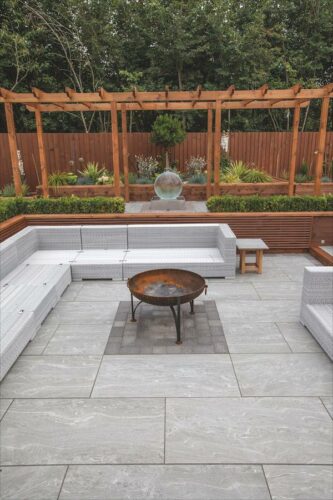 Paving is a popular landscaping choice for homeowners up and down the country. Those who desire the ultimate low maintenance garden might opt to put paving down across the majority of their backyard, and in other cases homeowners put down paving for a patio, giving them a space to relax and host guests without needing to worry too much about the weather. You would be hard pressed to find a garden in the UK without some form of paving present. 
With that in mind, which type of paving is best for your garden? The answer, of course, will depend on a number of factors including your personal taste and budget. There are many types of paving available on the market, so it's important to do a bit of research to ensure that whatever type of paving you choose is best for you.
We are here to help, and in this latest article, we'll take you through some of the most popular paving choices. Remember that we have a wide variety of paving on offer, all available to order through our website for nationwide delivery.
Types of Paving
We are going to discuss four popular types of paving today, exploring the options within each type and providing you with some useful information so you can make an informed choice. The types of paving we are looking at are:
Concrete Paving

Natural Stone Paving

Porcelain Paving

Block Packing
As with everything in life, there are pros and cons to each, and some buyers will certainly prefer one type over another depending on their taste.
Natural Stone Paving
As the name suggests, natural stone paving is made from naturally formed stone deposits. Extracted from quarries across the world, the stone is then shaped into paving slabs ready for you to lay them down in your garden or on your driveway. There are many types of natural stone paving, with the most common being limestone, granite, sandstone, and slate. 
Many people choose natural stone paving for its timeless, authentic look. Due to the fact it forms naturally, no two slabs of natural stone paving are exactly the same. This might be off putting for some, whereas others will appreciate the authentic beauty it provides. The slight variations of the slabs also make each and every project that utilizes natural stone paving unique.
Natural stone paving is also renowned for its durability. As you might expect from a material that has spent thousands of years forming beneath the ground, you can expect your natural stone paving to last a long time if maintained properly. The good news is that natural stone paving is incredibly easy to keep looking great, so if you are looking for low-maintenance options, it could be the way to go.
Concrete Paving
For people who are working on a tighter budget, concrete paving might be the way to go. Of course, there will always be cheaper natural stone options and premium concrete options, but as a general rule of thumb, concrete paving will come out cheaper. Unlike its natural counterpart, concrete paving is completely man-made, often imitating the look of natural stone paving.
High quality concrete paving can look great, but obviously it will not provide the same rustic finish as natural stone paving if that is the look you are going for. It's important to weigh up both appearance and price so you can decide where concessions can be made.
There are a vast array of concrete paving products on the market, all featuring unique styles, shapes, colours, and patterns. It's also incredibly durable, and therefore perfect for a stress-free patio or sturdy surface for your driveway (with a 50mm thickness for driveways). There is plenty you can do with concrete paving, and it's still a fine choice if you don't want to spend too much money.
Block Paving
Rather than slabs, block paving is made up of individual bricks. Due to their reduced size, blocks can be arranged in seemingly endless ways to create unique patterns and looks. It's an extremely popular choice for driveways, but you'll also see garden patios and paths utilise block paving as well. This type of paving can be bought in a huge number of colors and styles, allowing you to match or compliment existing spaces with ease.
There are many practical benefits to block paving, too. Perhaps one of the most impactful benefits is the ease of replacing cracked blocks. Although durable and resistant to weathering, sometimes accidents happen. If you end up accidentally cracking a block, you can simply replace it at the fraction of the cost it would be to replace a slab of porcelain or natural stone. Additionally, due to the composition of the bricks, block paving has remarkable efficient drainage properties.
Porcelain Paving
Porcelain Paving is a premium product that offers unrivaled beauty. Compared with other paving, porcelain paving will more than likely cost you more to buy and install, although you will likely spend less money on maintenance as it's an incredibly durable product. Indeed, porcelain paving can remain looking practically brand new for years after you've bought it, with very little effort at your end. Porcelain paving achieves this by being exceptionally non-porous, meaning that no water from rain or snow will be able to get inside and erode the tiles. Similarly, porcelain paving is coated with sealants on composition, meaning spillages or outside debris can be wiped off with ease. 
Another benefit of porcelain paving is the fact that it can be used to seamlessly transition from outdoors to indoors, and vice versa. This can look great in morden open plan settings that combine indoor and outdoor space. You could, for example, use porcelain paving to seamlessly transition from your kitchen or dining room into an outdoor seating area. It's a luxurious product, and well worth the price tag if you have the budget for it.
Forward Builders Supplies
Remember, all the types of paving we've discussed today are available to order in just a few clicks right here at Forward Builders. We offer quick processing and nationwide delivery, and if you're a local customer, you will be eligible for free delivery with no minimum order required.
If you are still a little confused, or have questions about the best type of block paving for you, our team will be more than happy to advise. You can reach us on 033 0055 2500, or fill in an online contact form and we will be in touch as soon as we can.