What are the best materials for driveways in the UK?
Driveways are a big investment for homeowners across the UK. With a number of different materials on the market, which is best for you?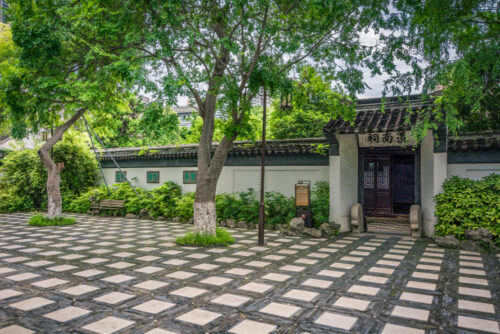 Driveways are a great asset to any home. If you have the space, a driveway can both add value to your property as well as give you a safer, more accessible place to keep your vehicles. With so many different types of driveway materials, it's important to weigh up the pros and cons of each, as well as your own budget and circumstances. We're here to help with that!
Why The Right Driveway Material Is Important 
A driveway has both practical and cosmetic purposes. Practically, it needs to be somewhere safe where you can park your car, which can be a huge bonus especially if you live in a city or on a busy road. You need to make sure that the driveway material you choose will not damage your vehicle in any way, is durable so it will not require much maintenance, and is safe for yourself and guests to walk on. 
The cosmetic importance of a driveway cannot be understated, either. We talk a lot about the 'curb appeal' in the property market, which is the first impression people have when they see your house - before they've even walked through the door. If there's one thing we know about first impressions, it's that they count. This is especially true if you are selling your home, as a well-built driveway can leave a fantastic first impression and begin any prospective sale with much needed positive momentum. 
The driveway materials we're going to discuss today won't have a clear winner; they're all perfectly valid as a base for your driveway. It's ultimately up to you. You need to ask yourself what's most important out of durability, appearance, cost, and so on. We'll do our best to give you some clear, unbiased advice so you can make up your own mind. If you have any further questions after reading this article, please do not hesitate to give the team a call on 033 0055 2500 who will be able to talk you through options.
The Most Popular Driveway Materials in the UK
Concrete
Concrete is one of the more basic, but affordable options for your driveway. While you won't win any awards for the best looking driveway, its functionality is perfect when it comes to keeping your cars on. Concrete driveways are perfect for those who aren't too fussed about what their driveway looks like, and can rest easy knowing that their driveway will last for a long time and it won't need a lot of ongoing maintenance. 
While concrete driveways are fairly simple to lay, we would definitely recommend you hire a professional to do the work for you, unless you are in the trade yourself. Working with concrete can be incredibly dangerous if you don't know what you are doing!
Imprinted Concrete
Imprinted concrete has all the benefits of standard concrete but doesn't have the drab look. You'll pay more for this - of course - but if your budget can be stretched, we think it's worth it, especially if you are planning to sell your property at some point in the future. 
There are a ton of options out there when it comes to imprinted concrete. It's essentially the same old concrete that has colours and patterns imprinted onto the surface before it sets. It's sturdy and durable, but can take on the look of tiles, natural stone, and much more.  
Gravel 
Gravel is one of the most popular choices for driveways in the UK, and it's easy to see why. It's extremely budget-friendly, can offer great curb appeal, and isn't all that difficult to lay. In fact, if you're DIY minded there's a good chance you could do it yourself. It's associated with pleasant country houses, and that sound of gravel beneath the feet or a tyre is almost ASMR-like in its effect. Another added bonus of gravel that is often overlooked is the security benefits it has; if somebody pulls onto your driveway you are going to know about it.
It's safe to say that we're fans of gravel here at Forward, and we've got a huge stock of gravels that look great and are suitable for driveways. We've also got a handy guide written by our gravel experts should you want to take on the challenge yourself!
Perhaps the biggest con to gravel driveways is that it will take more maintenance than a lot of other materials on this list. Due to the nature of gravel, it's common for it to be displaced over time so it will require some raking / top ups every now and then. Weeds can also be an issue, but you can help mitigate this by putting down a layer of weed membrane. 
Block Paving
Block paving is another extremely popular choice for driveway materials in the UK. While it will set you back a bit more than gravel, block paving provides low-maintenance curb appeal that can be arranged in a variety of styles, colours, and patterns. There are many different types of block paving, including concrete, slate, natural stone, and even porcelain. You won't need to worry too much about your driveway getting damaged as a perk of block paving is that individual blocks can be replaced.
Block paving is a little harder to get right and will likely need the help of a professional should you choose this option. The blocks need to be laid with precision and failure to do this could cause them to deteriorate quicker than they should, as well as create uneven surfaces on your driveway. 
Asphalt (Tarmac)
Although asphalt driveways have decreased in popularity in the last few years, they still provide a reasonably cost-effective and reliable material for your driveway. Asphalt is also incredibly weather resistant, managing to survive heavy rains and ice without too much hassle. To be aware, however, that hotter temperatures could cause the tarmac to become sticky or lose a bit of its shape. You shouldn't have to worry about this too much here in the UK, however.
There's also not a lot of scope to put your own unique spin on an asphalt driveway. While it can look modern and clean, it probably won't have the same curb appeal as something like gravel or imprinted concrete. Nonetheless, if you're looking for an affordable, low-maintenance driveway, asphalt might be the choice for you.
Forward Builders
We know a thing or two about driveways here at Forward, and we stock a massive range of driveway materials from gravel to block paving and everything in between. If you are interesting in laying your own gravel driveway, you can check out our in-depth guide here, or if you have further questions about our products or driveways in general, please do not hesitate to fill to contact the team on 033 0055 2500, or fill in an online contact form and we will be in touch as soon as we can.