Why Use Composite Decking?
Composite decking is a great alternative choice for wood decking. With a range of colours and finishes on the market, it is no surprise that composite decking is a popular choice for gardens and outdoor spaces. Find out more about composite decking in our latest post!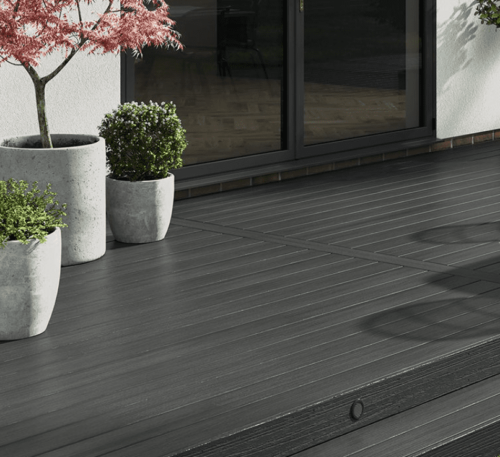 Are you considering adding a new decking in your garden or outdoor space? As times have moved on and technology has advanced, there are now lots more options available to you. Gone are the days where the only option was expensive, high maintenance, wood decking. Composite decking is one of the most popular decking products on the market and is definitely a top choice for decking. Whilst other materials like wood have their own benefits, the advantages of composite decking have solidified it as a firm favourite amongst decking lovers. Composite decking is used for a range of reasons, including its durability, minimal maintenance and being environmentally friendly.
What Is Composite Decking?
Wood plastic composite decking is often used in home gardens as well as commercial settings. Composite decking can be made from up to 95% recycled plastic and wood flour, making it an eco-friendly alternative to wooden decking boards. It boasts a long lift span due to its materials making it strong, hard wearing and rot resistant.
What Is The Difference Between Wood and Composite Decking?
Composite decking is designed to provide your garden or outdoor space with the look and feel of traditional wood decking, without the drawbacks associated with wood. This type of decking has a longer lifespan as its innovative manufacturing process and production means it is stronger than wood decking. Wood decking will suffer from damage from the elements, whereas composite decking is less vulnerable, has a higher durability and will not warp, splinter or rot. It also means that it is more comfortable under bare feet too.
As composite decking can be made from recycled materials, it has no impact on the environment. Not all composite decking is made from recycled materials, but you'll be glad to know our Ecodek range is! When you buy recycled material composite decking, you can know that you are helping to reduce your carbon footprint whilst creating an attractive feature using a sustainable product.
What Are The Benefits of Composite Decking?
Minimal Maintenance
Arguably one of the greatest benefits of composite decking is the minimal amount of maintenance it requires. Traditional wood decking requires extensive upkeep every 1 to 3 years and after 10 to 15 years, will need to be replaced. This is both a costly and labour intensive process. Wood decking also needs to be power washed and stained regularly to keep its colour. Composite decking, on the other hand, is easy to maintain. Composite decking simply requires an occasional wipe down with warm soapy water to keep it looking as good as new. It does not need to be continually re-stained or varnished to keep its colour. So you can spend more time relaxing and enjoying your decking, rather than spending hours maintaining it!
Durability
Composite decking can be made from high performance recycled materials and innovative technology. This is what makes composite so durable and allows it to have ultra long life protection. The construction of composite decking means it can provide exceptional strength and resistance to wear and tear over the years.
This is what makes composite decking a perfect choice for areas of your garden where you will be hosting many family gatherings. It is also great at creating a relaxing outdoor space with garden furniture. The durability of composite decking means it is well worth the initial costs, it does not break down like rot or wood. With high quality composite decking, you can expect a lifespan of over 25 years, you can see now why it is so popular!
Environmentally Friendly
The majority of composite decking is made from up to 95% recycled or scrap materials. This means that they are great if you love an environmentally friendly product. This is a major benefit over wood decking, which is harmful to the environment due to the amount of lumber it requires. In a time where there is high emphasis on being aware of your impact on the environment and planet, composite decking is a great eco-friendly product for your garden. You can rest assured that with composite decking, no trees are harmed but you still have an attractive decking.
Options Available
Composite decking is available in a wide range of colours and finishes and unlike wood decking, it will retain its appearance without needing touch ups or fresh coats.
You can find composite decking in a range of finishes including weathered oak, burnt cedar and enhanced grain antique oak. Composite decking has great flexibility to allow you to design a deck that will meet your needs. This makes composite decking an excellent choice for your garden or outside space, easily matching your existing colour schemes and decor. Whether you are looking for a rustic oak or a modern slate grey inspired outdoor space, there will be composite decking perfect for your tastes and style.
No Splinters
Splinters can be a nasty surprise with wood decking but are almost unavoidable, especially around screw holes. This is never ideal, especially now gardens are multifunctional spaces for playing, working, exercising, entertaining and relaxing. However, with composite decking, this will never be a concern as you can avoid splinters completely. Composite decking provides you with a safe and comfortable outdoor space. It provides a clean and seamless finish with no potential for loose screws or splinters that can be hazardous to feet and paws. So no need to worry about splinters as little (and big) feet or paws are running around barefoot on the decking!
Cost Efficient
Although the initial cost of composite decking can be higher than other types, the overall cost is more economical. Factoring in maintenance and durability, in the long run, the cost of composite decking is less than other decking types. Other types of decking such as softwood, will require more spending when it comes to maintenance, stains and repairs. Also, you are more than likely going to have to replace the decking in 10 - 15 years time and this will not be a simple (or cheap) task.
High quality composite decking, on the other hand, does not need to be replaced within the 10 to 15 year time period. Top quality composite decking can offer a lifespan of over 25 years.
If there comes a time where you decide to sell your house, you will continue to reap the benefits of composite decking. The excellent condition of your outdoor decking space could potentially increase the value of your property. After all, most people love an outdoor entertaining space! So not only do you benefit from an aesthetically pleasing decking, but you can also reap the rewards when selling your home.
Forward Builders Supplies
Here at Forward Builders, we have a great selection of quality composite decking for you to choose from. We know how important it is to show off your personality in your garden and outdoor spaces, which is why we have a great range of decking supplies to help you do so.
Forward Builders have over 30 years of experience in the building and landscaping industry and we have established ourselves as one of the most trusted builders merchants in the North West. If you have any questions about composite decking, our friendly team will be happy to help. Please get in touch with the team through our online chat or call us on 033 0055 2500. Alternatively, please fill in our contact form and we'll be with you as soon as possible.