How do you clean and look after porcelain paving?
The clean, contemporary look of porcelain pavers makes them suitable for all kinds of outdoor projects and on the whole, porcelain is straightforward to maintain. In spite of its hard-wearing nature, cleaning porcelain paving remains an essential task.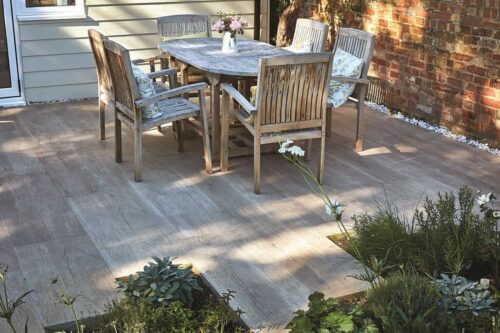 Porcelain paving is an attractive option when it comes to creating an elegant look for your outdoor living space.
It's durable, and creates a seamless flow from the inside to the outside of the home.
The clean, contemporary look of porcelain pavers makes them suitable for all kinds of outdoor projects and on the whole, porcelain is straightforward to maintain.
In spite of its hard-wearing nature, cleaning porcelain paving remains an essential task.
Porcelain pavers may not be porous, and therefore susceptible to staining like other types of paving. However, in common with most outdoor surfaces, they need looking after.
How to clean porcelain slabs
Regular maintenance is vital when it comes to making your porcelain paving slabs keep their great look – and there's no major secret to this.
Cleaning porcelain slabs comes down to something as simple as brushing your patio or pathway with a broom and then using hot, soapy water to wash away any dirt. A clean down every couple of weeks should be sufficient to keep your porcelain pavers looking as good as when they were first laid down.
So, cleaning porcelain paving slabs is relatively easy, but like most other kinds of outdoor paving they can still be vulnerable if used often, or if they're neglected.
Let's not forget that if you're using your porcelain pavers to create an attractive patio area, it is at risk of staining from spillages.
There are also environmental factors that can make your porcelain paving slabs look less than their best – especially if they are unglazed. This is just a fact of life, but when it relates to this highly durable type of paving then it really is nothing to worry about.
All you need is a little bit of know-how as to how to clean porcelain patio tiles.
What do you clean porcelain slabs with?
Soapy water does the trick for regular maintenance, but if you really want to make your porcelain pavers sparkle you can try this handy tip:
Mix a quarter of a cup of white vinegar to about two gallons of water, then mop the tiles with a sponge mop. This will give them a beautiful sheen.
The porcelain paving cleaner you choose to use depends upon the type of staining that has occurred.
Like all outdoor surfaces, your porcelain paving can be vulnerable to algae. This appears as a green film or a powder-like substance on your stonework.
Or you may see darker green or black jelly-ish growths. These do not damage your pavers but they can cause surfaces to become slippery, so cleaning porcelain paving is pretty essential in this case.
One way to get rid of these growths is to use a specific algae remover.
To do this, you first need to fill a light pressure sprayer with the solution.
Set the pressure at between 0.5 and 1 bar, and start to spray evenly across the surface.
You then leave the solution on your porcelain tiles for between one to five hours, depending upon the severity of the problem.
It may be stating the obvious, but you also need to keep people and pets off the slabs while the solution does its work. Once you are satisfied that the algae has been loosened from the pavers, you can rinse them with plenty of water.
How to maintain unpolished porcelain tiles
If your porcelain pavers are unglazed or unpolished, you can clean them by:
Sweeping any dirt from the tiles with a brush, or it is also possible to use a vacuum cleaner to ensure it is cleared of debris
Once swept, you can douse the porcelain pavers with hot water and a pH-neutral cleaning solution
Wait for around five to 10 minutes, making sure the cleaning liquid does not dry out
With a scrubbing brush, clean off any remaining dirt
Using a mop, wipe away the cleaning solution and water then rinse with clean water. You may also want to use a vacuum cleaner if it is suitable for washing floor surfaces.
Let the porcelain slabs dry before walking on them
If your porcelain pavers are polished, you can clean them by:
Using a dry dust mop to sweep away loose dirt, or use your vacuum cleaner to get rid of any debris on the surface. Do not use a brush because this may be too abrasive and risks scratching the polished surface
Follow up by mopping the pavers with a pH neutral detergent
Ensure the tiles are cleaned thoroughly, and that there is no detergent residue because this could dull the tiles' appearance
Carefully dry and buff the tiles by sweeping a lint-free soft cloth across their surface
If you have textured porcelain pavers:
For textured porcelain pavers, you need to take extra care when cleaning them. Simply swabbing with soap and water won't be sufficient to maintain their look. Instead, you should:
Get rid of the dirt and debris with a soft, bristled brush or by using a vacuum cleaner
Do a more intense clean to ensure no dirt remains lodged in the textured surface
Use a pH-neutral solution and hot water to soak the pavers before leaving it for about 10 minutes
Use a soft, bristled brush to scrub them thoroughly and dislodge embedded grime
Rinse the porcelain slabs, to get rid of any cleaning solution, once you're satisfied all embedded dirt has been removed
Remember that your textured porcelain pavers are more high maintenance than polished or unpolished slabs, and need washing more frequently to preserve their stunning look.
How to clean porcelain patio tiles
How to clean porcelain patio tiles after winter when leaves and debris have marked the surface?
The simple answer is to use diluted porcelain paving cleaner such as LTP Grimex. This works to eliminate any stubborn stains that have been left on your patio.
You can use a powerful jet washer, but not for porcelain tiles that have been treated because it may affect the way they look. You could use one on a low setting to agitate the debris and loosen it so it can be cleaned off effectively.
Cleaning porcelain paving is relatively straightforward as you are dealing with a material that is pretty robust. However, you need to be more careful if the pavers are polished or textured.
Regular maintenance like brushing and washing around once a week is essential to making sure that your patio or pool surrounds maintain their elegant good looks for years to come.
There are numerous preparations on the market that have been specially created to clean porcelain slabs. However, you can also use good old baking soda or a mixture of peroxide to ensure they retain their shine.
If you are looking to upgrade your outdoor areas why not check out the range of high-performance porcelain paving in our shop.