How to grout porcelain slabs
Grouting is a process during which the spaces between tiles are filled. Grouting porcelain paving slabs is an important stage of the installation process, and hence needs to be done in the correct way.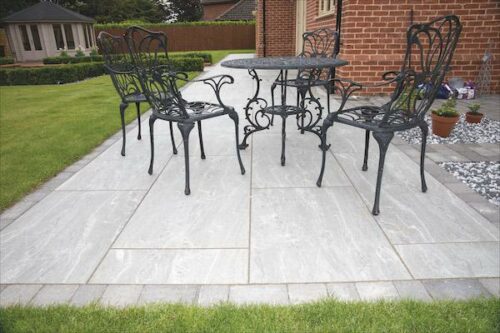 Why should I grout my porcelain slabs?
Grouting is a process during which the spaces between tiles are filled.
Grouting porcelain paving slabs is an important stage of the installation process, and hence needs to be done in the correct way.
Here, we explain why:
- Grouting provides the finishing touch to your porcelain paving project, and when done properly will enhance its look
- Non-porous porcelain paving grout provides a waterproof seal in the joint. If water is allowed to seep in, it may cause damage to the laying course through frost action or chemical erosion
- The composition of exterior grout makes it flexible which means that is can compress in hot weather when your porcelain pavers expand in the heat and prevent the slabs from touching each other. If the slabs rub together, they will chip or shale at the edges – something you really do not want to happen
- Grouting is a way to prevent weeds, or other unwanted flora or fauna, from sprouting between the tiles, again something which risks spoiling the elegant look of your pavers. If you grout between them, this will be prevented
Which type of grout is best?
There are different types of grout on the market, with the most popular being cement grout.
This is a more affordable option. However, because it is more porous, it might not be suitable for non-porous porcelain slabs. If used, it will need to be sealed regularly to prevent it from crumbling and cracking.
Latex-modified cement grout is cement grout that is strengthened with latex, increasing its water resistance.
However, epoxy grout is probably the best option for laying porcelain slabs because it is durable, doesn't require sealing, is stain and chemical-resistant, and is good for areas of high traffic.
How to grout porcelain slabs
There are dos and don'ts when it comes to how to grout porcelain slabs but if you have the right equipment and follow a few instructions, you should be able to create the perfect grouting.
Of course, you could get a professional to do the job for you!
Here are a couple of common FAQs:
Can I lay porcelain slabs touching together?
No. If porcelain tiling is laid flush without jointing, contact pressure can cause shaling, spalling and chipping on the edges of the pavers. For that reason, it is definitely not recommended to lay them end to end.
How big should my paving joints be?
A minimum of 3mm should be left between paving slabs so that there's enough space for them to expand in hot weather and not touch each other. You can use a tile spacer to enable you to get the appropriate width between each slab. These are available in various sizes, from 3mm to 10mm.
Before you begin grouting, you need the following tools:
Grout float or squeegee
Large bucket
A tile sponge
Flexi tub or bucket
Paddle mixer or attachment
A brush to sweep away dust or debris before you start
A garden hose to wash down the tiles after you've finished
Tile spacers to ensure there is equal spacing between each slab
You could also use a grout gun, but this isn't essential
Materials you will need to grout porcelain paving:
Exterior tile grout
Clean water
Porcelain tile protector (this isn't strictly necessary, but will make cleaning off the grout residue less arduous)
Pointing porcelain patio paving
Exterior paving grout can come in large bags, and it is advisable to mix small quantities so it doesn't start getting hard (curing).
- Slabs should be clean and dry
Use a brush to remove and dirt and debris from the slabs, ensuring they are also dry. Wet joints will most certainly affect the curing of the grout, and may cause it to discolour
- Apply a porcelain paving protector
This isn't obligatory, but it can make cleaning off grout at the end of the job much easier
- Mix up the grout
You must follow the manufacturer's instructions to ensure you have the correct consistency, using the right amount of water for each bag
- Make sure only clean, fresh water is used
Pour the correct amount of water into a mixing bucket, and then gradually add the grouting powder
- Mix
Use an electric drill with a mixing paddle attachment, or a special paddle mixer, to ensure the grout is the correct consistency. Once it is creamy smooth and lump-free, it will be ready for your porcelain slabs.
To apply the grout
- Ensure there is no moisture between the porcelain slabs because this will prevent them from adhering
- Dampen the surface to the slab using a tile sponge, making sure the edges do not get wet and the grout can be applied more smoothly. This will also help make the removal of residual grout much easier
- Use your grout float to press the grout into the joint and check to see that it fills the space before using the float to smooth
- Spread and remove extra grout, pushing it down into the joint and leaving as little residual grout on either side of the join as is possible
- Use a tiling sponge, or tile wash float, to wipe away and residual grout on either side of the joint. Don't do this immediately, but allow it to slightly harden so you are not wiping away freshly-applied grout.
- The cleaning and sponging should be done as soon as the grout has started to harden to avoid a residual grout haze, which will be difficult to remove. If this does happen, there are preparations on the market that will help you to remove the hardened residue
Porcelain paving from Forward Builder's Supplies
Take a look at our premium porcelain paving range here.
Our selection is broad, and includes a long list of different colour and texture options – meaning we will have an ideal solution for your outdoor space.
Don't forget to ask a member of our team if you have any questions about grouting porcelain slabs.
Visit us at our Ellesmere Port site, or complete the form on our contact page and we'll be in touch as soon as possible to help.