How to lay porcelain paving slabs
If you are looking to transform your garden and create a space that will wow your friends and family, porcelain paving might be the answer. To help you get started, we have prepared a comprehensive guide explaining how best to lay porcelain paving.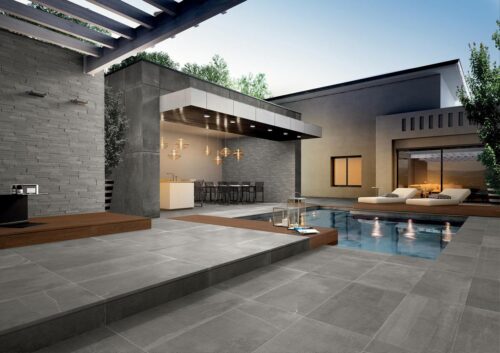 If you are looking to transform your garden and create a space that will wow your friends and family, porcelain paving might be the answer.
At Forward Builders' Supplies, our range includes a stunning selection of porcelain paving, perfect for any project, and our knowledgable team is ready to help you identify the ideal paving for your needs.
We find that many of our customers intend to lay their chosen paving themselves and want to know where to start.
Porcelain can certainly present its challenges, but if installed correctly it is a worthy investment into your property.
So, to help you get started, we have prepared a comprehensive guide explaining how best to lay porcelain paving.
Can you lay a porcelain patio yourself?
Whether you're on a tight budget or simply want to take on the project of laying porcelain patio, we always recommend doing your research first. It is no easy task for beginners, but with the appropriate materials and equipment, we believe you can successfully lay your porcelain slabs and achieve a high-quality outcome.
To start, we have detailed the materials and tools you'll need:
Materials
Porcelain slabs: High-quality tiles mean a superior finish, which is why identifying the right patio product is so important. You should ensure that for use outdoors, your tiles have a minimum thickness of 20mm and come with an R11 slip rating.
An MOT Type 1 Sub Base: This granular crushed aggregate will provide a stable subbase surface for your patio.
Bedding mortar: This will provide a high-strength fix for your tiles to the ground. This is usually a mix of
: This is essential for creating a strong bond between the bed and your porcelain slabs.
Jointing compound: This is the ideal grouting for your porcelain patio because it will help secure the slabs and strengthen the structural integrity.
Tools and equipment
Ensuring you have the right tools for the job is vital when it comes to any tiling project. Below, we have listed everything you'll need when laying porcelain tiles outside.
Electric Wet Tile Saw: This will need a 1.5hp motor, and you will need to use a diamond blade to be able to cut through the porcelain without it cracking or chipping
A mixer: required to mix the grout and adhesive
Trowel
Measuring tape
Spirit level
Sponges
Rubber mallet
String line and pegs
Wheelbarrow: This is optional, but we find that having a wheelbarrow on hand can be helpful if you're paving a larger area.
Shovel
Stiff Broom
Suction cup: This will help lift and place the tiles, especially if you are working on the project alone.
Vibrating plate compactor: This is optional, but can be useful for quickly compressing the subbase.
We also recommend, like with any DIY job, that you wear the appropriate PPE, which includes a mask, gloves, goggles and safety footwear. You should also be mindful of your environment, ensuring that you work in dry weather and that your patio won't be disturbed by any children or animals.
Can you lay porcelain slabs on sand and cement?
Like with any building job, you must prepare the ground first.
We wouldn't advise laying porcelain slabs directly onto sand because they will likely move around.
Instead, a mortar bed is the preferred foundation layer because it provides a stable working platform. As long as the area is free from dust, dirt or other debris, the tiles should easily adhere to the surface, and your project will be finished in no time at all.
When mixing mortar for porcelain paving slabs, you'll need more cement. With that in mind, mix your mortar using four parts sharp sand – also known as grit sand, or concrete sand – to one part cement.
Unlike the sand you would find on a beach, sharp sand is coarser and made up of larger particles making it perfect for building projects.
It is also important to consider drainage; any excess water needs to be able to run away easily, preventing damage to your paving and your property.
Do porcelain slabs need a concrete base?
When installing porcelain tiles in an outdoor area, you must always ensure they are applied to a solid substrate like a sand/cement screed or concrete.
Laying porcelain tiles over your existing concrete paving can make the task easier because you won't have to buy an underlay and wait for it to cure before you can get started. You will also have a sturdy foundation.
However, as mentioned above, it will still require good and a subbase.
Check water runs off appropriately, and survey the surface for any cracks.
If your concrete base has sunk since first being installed and is now level with any surrounding soil, you may have to do some grading.
Once you have carried out these checks, you will want to start preparing your concrete base by scrubbing it clean with water and a stiff broom to remove dirt and debris.
If there are any greasy or oil-based stains, use a degreaser to clean the surface.
What base do you lay porcelain slabs on?
To safely and securely lay your pavers, you will want to have a solid mortar bed as your base.
Because it doesn't adhere to the mortar as easily as other types of paver, porcelain needs to be painted on the reverse with a slurry primer – four parts sharp sand and one part cement with an bonding additive – to ensure it adheres better and is more stable.
Once everything has been combined with an electric paddle, you should have a mixture with a firm consistency that is not watery or runny and can be easily trowelled onto your porcelain slab.
We always recommend matching the strength of your bed to the density of the slabs you are installing.
If you are unsure which materials will work best for your chosen product, don't hesitate to ask a member of our team who will be more than happy to point you in the right direction.
What do you put under porcelain pavers?
The answer to this question is split into three separate parts.
First, dig out the area where you intend to lay your pavers. Start by marking out the area that needs to be excavated using pegs and string, being mindful of leaving a 1cm-2cm margin for kerbing if your paving doesn't connect to a wall.
The depth of the area you dig out should be at least 16cm below the intended height of your patio. You will also want to ensure that the surface of your paving is at least 15cm below any damp-proof course to prevent any future water damage to your property.
Next, you should create a subbase. A subbase (a granular crushed aggregate) is recommended for porcelain paving because it is great for compaction, making it ideal for bearing heavy loads.
Evenly rake the aggregate across the area until it is 3cm below the designated string line. The material must then be compressed and compacted to 5cm below the string line, which can be done quicker if you have a vibrating plate compactor.
The third and final layer is a mortar bed. This material is an incredibly lightweight mud bed specifically formulated to resist shrinking and create a high-strength bond.
As mentioned above, porcelain needs to be painted on the reverse with a slurry primer – four parts sharp sand and one part cement with an SBR bonding additive – to ensure it adheres better and is more stable.
You will know when they are adequately mixed because you should have a firm consistency that can be easily scooped up using a trowel.
Then, using a trowel or shovel, carefully apply the mortar to your pre-prepared subbase. Gently level it out to 1.5cm below the string line before creating a rippled surface, as this will help the tiles to adhere to the bed.
When applying the mortar, only spread out enough for a single porcelain tile at a time so that the layer doesn't become uneven as the tiles are compressed.
Do you need a primer for porcelain slabs?
Yes, we would always recommend using a primer before laying porcelain paving slabs to prevent the grout from cracking or breaking apart.
Porcelain has an incredibly low absorption rate, making it ideal for outdoor paving. However, the lack of absorption also means that without a primer, the tiles will struggle to form an adequate bond with the mortar bed.
When you create a wet bed mortar, you need an absorbent surface for it to stick to, and porcelain will not do this. If you try, you will find that the porcelain paving will lift and move around over time.
Using a slurry primer will help to create a strong bond between the bed and your porcelain paving. You will need to coat the primer onto the underside of each slab before it is laid, but thankfully, it is not a time-consuming process. Over time, it will help to strengthen your patio and increase its durability.
Most manufacturers will recommend using a high-quality primer for any natural stone paving or other materials with low porosity, as it will help create the necessary bond for structurally sound paving.
How thick should the bed be for porcelain slabs?
For porcelain slabs with a thickness of 20mm, we would recommend creating a bed with a minimum thickness of 40mm, but this can vary and will usually be specified by the adhesive manufacturer.
The thickness of the bed is essential to ensuring the finished patio is level, sturdy and structurally sound. For a high-quality finish, your porcelain tiles must be laid over a uniform and level bed that has been carefully laid and measured. If you end up with one end of your bed at 10mm and the other at 40mm, your project will become ten times more difficult.
Want to know more?
We hope that this guide has answered any questions you may have had about how to lay porcelain paving and provided you with a good starting point for your next DIY paving project.
If you are interested in exploring our stunning collection of porcelain paving tiles, please visit our website, where we're sure you'll find the perfect fit!
For more information about laying porcelain paving slabs or if you have any other questions,  don't hesitate to get in touch with our Forward Builders' Supplies team on 033 0055 2500, or you can send us a message on our Instant Chat located in the bottom right-hand corner of our website.