How to pave your driveway
Planning to block pave a driveway? This short guide will give you a head start. Forward Builders supply all the necessary materials and can deliver them nationwide.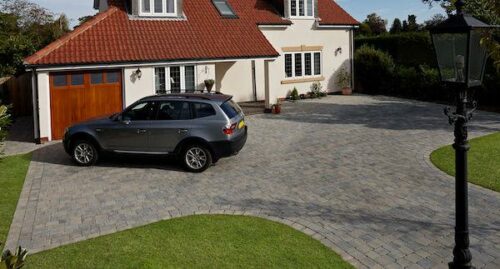 How to pave your driveway
Paving is a popular DIY job and knowing how to pave your driveway can spruce up your property's kerb appeal while saving on the labour costs of getting someone in to do it for you.
The main thing to remember is that a driveway needs to support vehicles if you want to actually drive your car on it, and that means your paving needs a solid foundation.
Because of this, block paving is a popular option. The bricks are chunky and solid, and up to the task of supporting heavy vehicles driving over them on a daily basis.
Basic process for paving a driveway
There are a few main steps to paving a driveway:
Excavate existing soil
Install drainage
Lay compacted sub-base
Lay edges and kerbs on concrete
Lay coarse sand/screed within edge
Lay inner bricks/blocks
Your particular job might differ depending on if you are laying on an already existing base or within existing edges, or if you are using materials other than block pavers.
Things to remember
For the best results - and a driveway that doesn't subside within 12-18 months - there are a few things to remember.
Make sure your base layer, sand and screed are well compacted down and level. Any discrepancies now will only give your blocks room for manoeuvre in the future.
As you lay each row of blocks, make sure it is tightly butted up to the neighbouring row.  Again, you want to create as solid of a surface as possible, with no room for bricks to move out of place during repeated use of the driveway.
Caring for a paved driveway
Paved driveways can last for a good length of time before showing any signs of sinking, but there are some things you can do to prolong their usable lifespan even further.
Resist the urge to pressure wash them. This can remove the sand from the joins, creating that unwelcome 'wriggle room' that can accelerate sinking and subsiding.
For the same reason, try to ensure there is sufficient drainage around the driveway so excess rainwater does not flow river-like on the surface.
By keeping the sand in place in the joins for longer, you help to maintain that solid surface, and this should in turn keep the paving stable for parking a vehicle on top.